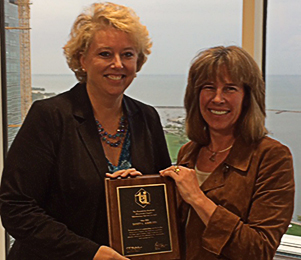 The Wisconsin Chapter recently presented Janet Kreilein (right) the 2016 Chapter Meritorious Service Award. Dawn Peterson (left), who presented the award, spoke to attendees about the contributions Kreilein has made.
"When I left the world of public accounting in the spring of 2004, joining TEI was at the top of my to-do list. And one of the first relationships I made after joining was with Janet Kreilein. She was engaging, involved, and wasn't afraid to share her opinion," Peterson says.
"When she called me in early 2009 to ask whether I'd consider joining the Wisconsin Chapter board, I didn't hesitate. She had set a great example, and I was hopeful I could have half the impact that she had on our Chapter."
Kreilein has proudly held all the local Chapter TEI roles, including treasurer, secretary, vice president, and, in 2008–2009, president. Kreilein served as the Chapter representative to the national Board of Directors and currently serves as the Region 6 vice president.
Concluding the presentation, as Peterson presented the TEI Wisconsin Chapter Meritorious Service Award to Kreilein, Peterson remarked that over the years Kreilein has been a professional sounding board, a great listener, a mentor, a tireless advocate for TEI, and a dear friend.