In December, the president of TEI's New York Chapter, Sheila Rao, was happy to award four scholarships to future tax professionals. We congratulate the following scholarship winners: Primrose Zvinavashe of the master's program at Pace University, who also holds a JD from the university's law school, was awarded the Jerry…
Read more »
---
Below is a quick summary of the activity in the Northeast Wisconsin Chapter from this past October through March: The chapter meeting on October 24 focused on international tax issues, including GILTI, FDII, and other matters related to tax reform. November 21 was the chapter's annual all-day session. Presentations covered…
Read more »
---
The Kentucky Chapter hosted Eli Dicker, TEI executive director, at a recent meeting held at Jeptha Creed Distillery in Shelbyville, Kentucky. In addition to attending a state tax update presented by PwC, Kentucky Chapter members learned of the opportunities that TEI provides in an informative discussion led by Dicker and…
Read more »
---
TEI's Detroit Chapter presented Kathy Castillo the Chapter Meritorious Service Award. Chris Tressler, Detroit Chapter representative, and Teri Hull, Region 5 vice president, presented the award to Castillo and spoke to attendees about her many contributions. Castillo has held key roles in the Detroit Chapter and at the Institute level.…
Read more »
---
TEI's Seattle Chapter presented Sheri Dunn with the TEI Meritorious Chapter Service Award. Dunn retired from Weyerhaeuser Company in September 2016 and served as an officer of the Seattle Chapter board from 2007 to 2012. Dunn actively supported the annual process for the education program, using her knowledge of tax…
Read more »
---
TEI's Harrisburg Chapter recently hosted its annual full-day tax conference at the Hershey Country Club in Hershey, Pennsylvania. This event, a calendar highlight for both the chapter and Region 4, provides yearly networking and educational opportunities for central Pennsylvania corporate tax departments, attorneys, and CPAs. Speakers from CPA firms KPMG,…
Read more »
---
On November 20, 2019, TEI's Chicago Chapter held its annual International Tax Seminar, sponsored by McDermott Will & Emery and PwC. A highlight of the daylong program was the presentation of honorary TEI membership and a plaque to Janice Lucchesi, a longtime member of the Chicago Chapter and a past…
Read more »
---
TEI's Chicago Chapter held its annual meeting June 18 at the Dalcy Event Hall. The event began with opening remarks by outgoing chapter president Cathy Stevens on strong meeting attendance, high membership levels, and terrific sponsor support. Stevens then introduced Kathy Varga, the chapter's incoming president. After Varga addressed attendees…
Read more »
---
Scholarship recipient, Kirstin Robertson, from the University of Oklahoma (left), and Steve Crall, director of corporate taxes at OGE Energy Corp. and Oklahoma City Chapter representative.

---
The TEI Region VIII Annual Conference was held on beautiful and very hot Hilton Head Island, South Carolina, at the oceanfront Westin Hilton Head Island Resort, June 26–30. The conference focused on the key issues facing tax professionals and departments today, including new Tax Act challenges, accounting changes, and technology…
Read more »
---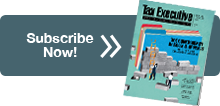 Use Right Tools and Collaboration to Manage BEPS 2.0 
On July 1, 2021, we witnessed history as more than…
---
Cathy Stevens
Cathy Stevens says it's a myth that being a tax…
---
Interview With IRS Deputy Chief Information Officer Kaschit Pandya
To keep current on tax issues, TEI members always like…
---
Demystifying the Settlement of California Tax Controversies
California is a state of overflowing abundance. From technology to…
---
TEI Roundtable No. 38: The Tax Department of the Future
What does the tax department of the future look…
---
The Sixth Circuit's Whirlpool Opinion—What's the Impact?
The US Court of Appeals for the Sixth Circuit issued…
---