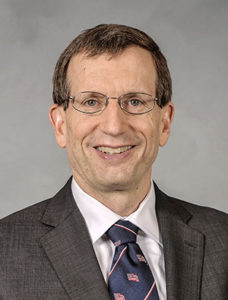 At the start of my presidential year, I had a few core objectives for the upcoming twelve months. I wanted to make a difference personally, positively impact our members, and, above all, contribute to the betterment of the tax community. Those objectives were reflected in my overall theme of "Getting Connected, Staying Engaged, & Having Fun." Now, as I look back, permit me to reflect on the year just concluded and to take a measure of where we are as an organization.
Above all else, God has blessed me with the great honor of leading TEI, a truly awesome organization, and working with an outstanding group of dedicated leaders on the Executive Committee, committees, and task forces, as well as in our regions and chapters. A finer group of individuals does not exist. I am deeply grateful to you all.
In an odd kind of way, my tax career has been haunted or at the very least hounded by tax reform. Let me explain. Back in 1986, two months before my scheduled graduation from the Master of Accounting program at the University of Georgia (go 'Dawgs), the Tax Reform Act of 1986 was enacted. So, rather than coast through the last few days ahead of graduation, I spent the time cramming as much tax-reform-related information into my head before starting work. Now fast forward to 2017. At first, prospects for tax legislation of any sort were iffy at best. But then, almost in the blink of an eye, the Tax Cuts and Jobs Act (TCJA) was enacted, arguably the most complex tax legislation in more than a generation. So, yet again, I repeated my own cramming exercise, as many companies (including mine) had fewer than two months to process the impact the legislation might have on their tax provisions. More about the TCJA later on.
Getting Connected
Creating opportunities for members to connect is vital for TEI. I am pleased that our investments in upgrading our web connectivity have begun to bear fruit. In particular, our enhanced web capabilities have enabled members to connect with their peers and, as important, for TEI to connect with them in targeted ways. TEI Connect and our web-based communities are slowly becoming part of a TEI member's daily routine to check on TEI meetings and events, share advocacy ideas, or download materials. While we have made solid progress, we still have a good bit to go.
TEI's 72nd Annual Conference brought us to Toronto which, depending on the time of day (and perhaps whom you ask), represents either our largest or second-largest chapter. In addition, I had the great opportunity to join members of the EMEA Chapter in Brussels and participate in their spring meeting. While calendars did not permit me to visit our Asia Chapter, our members there have been very active as we continue to build our presence in that important region, as well as work to establish our new operating structure in China.
Our members took full advantage of TEI's educational opportunities to connect, particularly during our Midyear Conference, where we hosted more than 600 in-house tax professionals, and at our Financial Reporting seminar, which welcomed more than 200 attendees. Common to these programs was timely, actionable content presented by best-in-class instructor cadres.
Access Granted, TEI's three-year membership recruitment campaign, continues full steam ahead. This year alone we will welcome nearly 1,000 new TEI members to our ranks, and preliminary analysis has revealed ninety-seven percent retention for 2018–2019 renewals.
In addition, we have begun to leverage the extensive network of chapter relationships with academic institutions to elevate the in-house professional role as a career path.
For a TEI president, few duties match the thrill of representing the Institute's Board of Directors at a ceremony inaugurating a new Institute chapter. In late May, I was privileged to join the leaders and members of the Nevada Chapter, TEI's fifty-seventh, as they accepted the Institute's charter and embarked on their journey to deliver on the Institute's mission of education, networking, and advocacy to the in-house community in the Nevada area. The shared commitment of our founding Nevada Chapter members is a strong one, and I was thrilled to participate in this joyous occasion. Thanks to everyone involved who put so much effort into making this happen. Nevada, welcome to TEI! (See The Back Page, page 68)
Staying Engaged
The TCJA has been chock-full of advocacy opportunities for TEI. Indeed, a collision of tax and financial reporting concepts arose almost immediately upon enactment and presented TEI an opportunity to engage—and we did. Over a nineteen-day period (notably, over the Christmas/New Year's holiday), our financial reporting committee produced a complex submission that addressed proper treatment of BEAT and GILTI, positions that were ultimately embraced by the FASB. I applaud the leadership of Stephen Dunphy and the many committee members who helped write, edit, and vet our submission.
TEI advocacy related to the TCJA will closely parallel our members' efforts to understand and implement its terms, account for and report on the financial results that flow from implementation, and, ultimately, defend those positions on audit. Our ongoing liaison meetings with the IRS, Treasury, and other regulators will provide opportunities to engage, supplemented as necessary with discussions with Joint Committee on Taxation and legislative staff.
TEI's advocacy continued across the technical spectrum, including an amicus brief filing in South Dakota v. Wayfair urging the Supreme Court to rule prospectively on the continuing vitality of Quill. In addition, TEI maintained its active engagement with the OECD and with Canada's Revenue Agency and Department of Finance. Modifications to the Institute's bylaws, once approved, will ensure the continued participation of past international presidents (PIPs) on the Institute's Board of Directors. Our PIPs represent a trove of institutional knowledge, experience, and insight. Indeed, they are often our conscience.
We continue to forge ahead to engage with emerging tax professionals (ETP). Our ETP subcommittee continues to develop ways to get our future leaders engaged with events and educational opportunities specifically tailored to them.
Finally, our nominating committee has done a great job evaluating our current nominating committee procedures with a view toward circulating recommendations for intended to foster greater transparency and facilitate greater member engagement and input. I admire the work and leadership of Rita Makaris, Marcus Shore, and their entire task force.
Fun
Bringing the Capitol Steps back to our Midyear Conference was certainly an experience. Indeed, there was certainly no lack of comedic material to draw on to build their program, and everyone who attended the show truly enjoyed it—Democrats and Republicans alike.
Combination
Part of what keeps every organization vibrant and growing is its ability to change and adapt. In that regard, we are striving to create mentorship programs that enable members to connect with one another and within TEI, not only at the Institute level but hopefully also at the chapter level. Indeed, our financial reporting committee has already embraced a proto-mentoring type program within its ranks. I am gratified to see elements of mentoring being implemented in different ways across TEI.
When we gavel in TEI's 73rd Annual Conference in San Diego, we will use a revised, compressed program schedule. This footprint represents a pilot effort to modify our traditional agenda in order to help preserve your weekend, without reducing your CPE/CLE complement. With our Board meeting being held on Monday morning, with substantive programming beginning midday, members with young families will be able to spend a greater part of their weekend at home. We expect to evaluate attendee feedback from San Diego as well as from New Orleans (2019), and then determine how to proceed going forward.
Change can be sad. This past year, we lost Coleman Kane, the Institute's director of membership and chapter relations for nearly a decade. Coleman brought a warm, pleasant, and upbeat manner to everything he did for TEI. Along with his wife Sharon and children Caroline and Phil, he became a part of the TEI family. We will miss him.
Finally, at the August Board meeting in Montana, I will have the honor to pass the leadership of TEI to Jim Silvestri of the New Jersey Chapter. I know everyone will be as excited as I am to hear about Jim's goals and the team that he has assembled. I urge everyone to continue to stay engaged and provide Jim with the support and assistance in the coming year. I know I will provide all the assistance I can.
I would be remiss if I did not express my gratitude to the executives of BlueLinx and especially to my tax team. It would have been impossible for me to be an active TEI member, let alone strive for senior leadership, without their unwavering support. They understood the value TEI brings individually and professionally and allowed me to fulfill my dream of making a difference to the tax community as a whole and to my company and coworkers as well.
Finally, I want to express my love to my wife Gina and daughter Holly for their love, support, and understanding. I am incomplete without you.
Warm regards,

Robert L. Howren
TEI International President