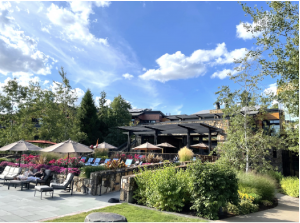 TEI hosted its Annual Meeting of the Members (AMM) from August 6 to 8 in the wine country of the Willamette Valley outside Portland, Oregon, at the spectacular Allison Inn and Spa. There were plenty of opportunities for members to network with peers, learn something new, reconnect with old friends, and meet new friends along the way.
The AMM included Executive Committee and board of directors meetings focused on governance issues, the election of officers, the election of past presidents to the board, and the certification of chapter representatives.  The Institute's yearly budget and the strategic direction for the upcoming fiscal year 2023–2024 were also approved during the meeting.
On Tuesday, August 8, TEI welcomed Sandhya Edupuganty to the role of international president for the 2023–2024 year, succeeding outgoing international president, Wayne Monfries. Edupuganty shared her vision for the Institute for the year, which focuses on membership, affinity groups, CTO engagement, and advocacy.
The AMM included an educational session, featuring a conversation with former IRS Large Business and International Division Commissioner Nikole Flax on Risks and Opportunities in Large Business Tax Administration. She engaged with members on the development and status of the IRS' Strategic Operating Plan, including what the IRS hopes to achieve and challenges it will face in its technology journey.
The meeting also featured a TEI Leaders Roundtable & Strategy Session, where TEI Director of Membership and Chapter Relations Tanya Coogan led a lively small-group breakout session focused on how TEI can better serve its members. Among the questions she posed were what the ideal member experience should be, what the member's perspective is, what TEI needs to be aware of, and where TEI excels and falls short. TEI's staff will use this feedback to advance the member experience as a key initiative for this fiscal year.
Overall, this year's AMM was a smashing success with active participation from members, productive conversations that will move TEI forward, connecting with friends, and having some fun in the Oregon wine country. We are already looking forward to hosting next year's meeting, tentatively to be held in Santa Fe, New Mexico!