43rd Annual Region 10 Conference
On April 26–28, TEI Region 10 hosted its forty-third annual conference in Huntington Beach, California. TEI Tax Counsel Kelly Madigan attended the conference an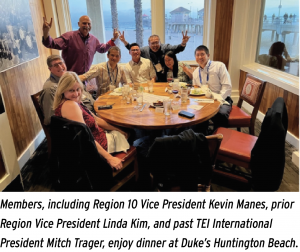 d moderated a fireside chat with Jonathan Traub and Todd Metcalfe, during which they discussed the latest developments on the Hill, including the Inflation Reduction Act, the new House leadership, and the debt limit.
On the first evening of the conference, Deloitte and Crowe hosted a reception at the Kimpton Shorebreak Resort, and Bloomberg sponsored a drinks-and-dinner reception on the terrace with cupcakes and cookies galore. The following evening, DLA Piper took attendees out to a fun dinner at Duke's Huntington Beach, and RSM hosted an enjoyable drinks-and-desserts reception in the courtyard where attendees could sit around the firepits and unwind from the day.
Many thanks to Region 10 Vice President Kevin Manes and past Region Vice President Linda Kim for their efforts in organizing the conference.
62nd Annual TEI Upstate New York Tax Conference
On May 3, the TEI Buffalo-Niagara and Rochester Chapters co-hosted the 62nd Annual Upstate New York Tax Conference. The conference was held in-person for the first time since the beginning of the COVID-19 pandemic.
The highlight of the conference was the opening session, the Federal Tax and Policy Update, with remarks delivered by former House Ways & Means Chairman Dave Camp, now with PwC, who was also kind enough to join chapter leaders the night before the conference.
A special thanks for planning the conference goes out to Jamie Omundsen, Will Ueland, Jodie DeBurro, Dee Waldruff, Chris Bailey, and Gary Steinberg. TEI Tax Counsel Benjamin R. Shreck also attended and provided an update on the Institute's recent activities.
55th Annual Region 1 Conference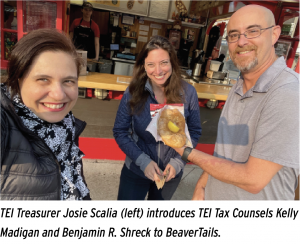 On May 7–10, TEI Region 1 held its annual conference in Ottawa, Ontario. TEI Tax Counsels Benjamin R. Shreck and Kelly Madigan, staff liaisons to the Canadian Income Tax and Canadian Commodity Tax committees, respectively, attended the conference.
TEI Treasurer Josie Scalia gave a TEI update and EY Global Tax Policy Leader Cathy Koch gave a keynote speech on policy and environmental, social, and governance issues. McCarthy Tétrault hosted a dinner and reception at the Fairmont Laurier on the first evening, and EY hosted a reception at the restaurant Play on the second evening. Hockey was discussed, and everyone had a great time.
A special thanks to the conference committee, Region Vice President David Card, Region Vice President-elect Mark Caluouri, committee Chairs Steve Saunders and Jun Ping, and committee Vice Chair Martin Behagg.
Spring EMEA Chapter Meeting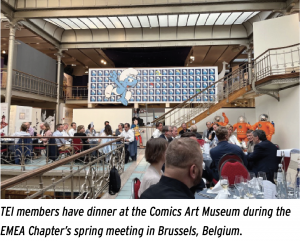 On May 25–26, the Institute's EMEA Chapter held its spring meeting at the offices of Loyens & Loeff in Brussels, Belgium. TEI legal staff member Benjamin R. Shreck was lucky enough to attend the two-day meeting.
Day one was "Chapter Day," with reports from the chapter president on chapter news, as well as reports from the Institute's EMEA Direct and Indirect Tax Committees on recent advocacy successes. Of note was a meeting held on May 24 with European Union (EU) tax officials to discuss the EU's implementation of the Organisation for Economic Co-operation and Development's Pillar Two project, the increasing ability of employees to "work from anywhere," and the associated cross-
border tax issues.
Day two was "Education Day," featuring presentations from Loyens & Loeff attorneys on various direct and indirect tax issues impacting TEI members based in Europe.
One highlight was the Thursday night dinner hosted by Loyens & Loeff at the Comics Art Museum in Brussels, which features the development of comics over the years. A good time was had by all.
Federal Tax Course – Level 1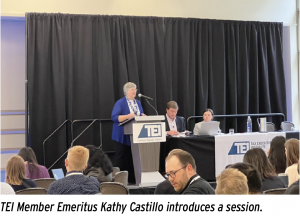 On June 12–16, the Federal Tax Course – Level 1 returned to the Michigan State Kellogg Hotel and Conference Center in East Lansing, Michigan. TEI Tax Counsel Kelly Madigan attended the beginning of the course, with onsite support from Assistant Director of Conferences and Events Mike Lowery and Director of IT and
Web Services Lynn Spence.
A special thanks to TEI Member Emeritus Kathy Castillo for her continued engagement in the federal courses and for moderating much of the course. Thanks also to Victoria Gallert for providing a TEI update.
Region 8 Annual Conference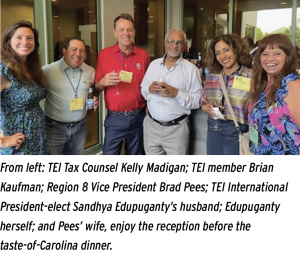 On June 14–18, TEI Region 8 held its annual conference in Hilton Head, South Carolina. Incoming TEI International President Sandhya Edupuganty, Region Vice President Brad Pees, and TEI Tax Counsel Kelly Madigan gave opening remarks, providing updates on the president's goals for the coming year and recent TEI advocacy and events.
Bloomberg hosted a family-friendly taste-of-Carolina dinner at the Westin Hilton Head; Asbury Law sponsored a cocktail reception; Alvarez and Morgan Lewis hosted breakfasts; BDO provided a mimosa, Bloody Mary, and smoothie bar; Crowe hosted a reception; Massie hosted a family beach party; and PwC sponsored a DJ with dancing and games.
Thanks to Pees, incoming TEI Treasurer Marcus Shore, and Winifer Tong for their efforts in planning another fun and educational conference!