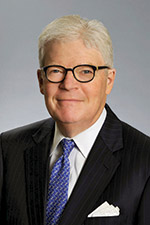 Traveling for TEI is one of the responsibilities—and benefits—of serving in the Institute's senior leadership. Over the past three years, and now, as Institute president, I have had the opportunity to visit chapter, regional, and Institute events around the world. Visiting chapters in different parts of the world provides insight and perspective on "how TEI is done" in places other than in my home chapter. To be sure, there are differences, and I will touch on those. But more important, the similarities are distinct. The quality of the meetings, the preeminence of the speakers, and the timely nature of the issues discussed are some of the core elements that link and bind us around the world. Undergirding them all is TEI's raison d'etre—members helping members.
Most recently, I attended the Europe, Middle East, and Africa (EMEA) chapter's winter meeting in Madrid and was honored to participate in a panel discussion led by An Theeuwes that focused on career development, including the hiring, training, and retention of tax professionals. These issues, in some shape or form, are on the minds of every in-house tax professional, be they emerging or executive. I was struck by the depth of experience of the members and their willingness to share. It is a truly international group, and the many viewpoints make for a rich dialogue. Felicitaciones to all who helped design and deliver an outstanding meeting and the support of the Garrigues law firm, which hosted and sponsored the meeting. A very special thanks to Alex Kölbl, Eva Sánchez, and Dr. Lluis Fargas Mas for all the courtesies extended to Christiana and me during our visit.
Members Helping Members
As I reflected on my Madrid experience—my presentation in particular and the meeting in general—it occurred to me that the discussion could very well have taken place in San Francisco, my home chapter, or virtually anywhere else in the TEI world: In-house folks sitting beside their colleagues, grappling with the same or similar challenges in an environment designed to foster learning, networking, and engagement. This is the embodiment of TEI—members helping other members, a principle that has stood the test of time for more than seventy years.
The differences from one corner of the TEI world to another are probably more accurately described as variations, as they speak more to matters of degree, not kind. For example, issues prominent and urgent in a particular geography may be less so elsewhere; program logistics certainly vary, with morning, early lunch, afternoon, and sometimes evening time frames. Similarly, program formats I have seen, and participated in, have taken a lecture style, moderated panel, or roundtable format, and even hybrid approaches. All these variations reflect the particular needs of our members, the geographies where they reside and work, and the business and tax challenges they face. They do not alter the TEI core but, instead, add to the richness of its tapestry, all in the service of our members.
In this spirit, I am delighted to report that we are well underway with TEI's 2015–16, Chapter + 1 visitation program. Initiated a number of years ago to strengthen connections among all parts of TEI, the program allows Executive Committee members, regional vice presidents, and, new for this year, several TEI past presidents to schedule visits and attend meetings in their home chapters and one additional location. They travel to report on the status of Institute goals and objectives, to share their TEI knowledge and experience, and to network. Chapter + 1 has served the Institute and its members well by leveraging the rich and vast experience of its leaders. I know you will derive benefit from their attendance and participation at your meetings.
Liaison Meeting With IRS, Treasury
I also look back on successful liaison meetings with the Internal Revenue Service and the Department of the Treasury's Office of Tax Policy. These interactions provide members and staff the opportunity to connect (and in some cases reconnect) with colleagues and peers and to strengthen lines of communication regarding issues of mutual interest. Understanding Treasury and IRS regulatory priorities helps TEI's legal staff calibrate its efforts and allocate resources to ensure that we, as an organization, are focusing our attention in the right places. I commend Patrick Evans, TEI's chief tax counsel, and his team for their continuing efforts spearheading TEI's advocacy program.
Also, we have closed the books on a very successful Midyear Conference, TEI's sixty-sixth. Themed "Change and its Consequences," the conference examined many of the causes and potential effects of key tax developments in the policy, planning, and controversy areas. We were delighted to welcome keynote addresses from four leading policymakers and regulators: IRS Commissioner John Koskinen, Financial Accounting Standards Board Vice-Chairman James Kroeker, House Ways and Means Committee Chairman Kevin Brady, and IRS Chief Counsel William Wilkins.
Congratulations, Canada
I offer heartfelt congratulations to our Canadian membership as they prepare to celebrate the fiftieth anniversary of their tax conference. TEI was established in Canada in 1956 with the chartering of the Montreal and Toronto chapters. Chapters in Calgary and Vancouver followed in 1971 and 1972, respectively. TEI's active and steady engagement with the Canada Revenue Authority, Department of Finance, as well as provincial tax authorities, has helped establish TEI's reputation as the preeminent association of in-house tax professionals, enabling TEI to help shape Canadian tax and administrative policy. I applaud all who have participated in creating and sustaining TEI's presence in Canada. Please keep an eye out for the May/June issue of Tax Executive, which will be devoted to Canadian tax policy and developments and will feature a roundtable discussion among the six living, Canadian past TEI presidents, focusing on TEI and Canada—its past, present, and future.
Finally, I would like thank our chapters for their efforts in completing their nominating processes to identify next year's cadre of chapter representatives to the Institute's board of directors. This group not only serves the critical role of connecting chapters to our board but also is the pool from which Executive Committee members are chosen. Thank you in advance for your service and commitment to TEI.
Warm Regards,

Sandy Macfarlane
TEI International President