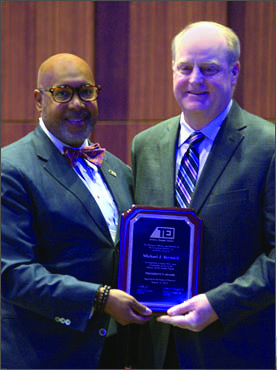 TEI also presented the President's Award to Michael Bernard at TEI's 73rd Midyear Conference. In his nomination of Bernard for the award, TEI's international president, Wayne Monfries, detailed Bernard's accomplishments as follows:
In accordance with Tax Executives Institute's award guidelines, I am pleased to nominate Michael (Mike) J. Bernard for TEI's President's Award. Mike has had a distinguished professional career over the past forty years as a tax executive. He is the vice president of content and chief tax officer of Vertex Inc. Prior to joining Vertex in 2018, Mike was the general manager and United States tax counsel for Microsoft Corporation (1990–2018), a tax attorney for Union Pacific Railroad (1988–1990), and a tax consultant for Deloitte (1986–1988).
Mike has been a member of TEI and the Seattle Chapter since 1993. His leadership roles for the Seattle Chapter include chapter president from 2000 to 2001, chapter representative from 2009 to 2012, and regional vice president from 2001 to 2002. Mike also served on the Executive Committee from 2009 to 2011 and on the board of directors from 2009 to 2012.
In addition to serving as a leader of his chapter and region, Mike also served as the chapter committee chair of the Awards Committee (1997–1998) and the Employment Committee (1996–1997 and 2012–2013). He was chair of the Institute's Communications & Technology Committee (2013–2018) and a member (1999–2018), vice chair (2017–2018), and chair (2011–2013) of the IRS Administrative Affairs Committee. He is also a former member and alternate for the Nominating Committee (2005–2006), the Continuing Education Committee (2001–2013), and the Financial Reporting Committee (2009–2018) as well as a member of the IRS Technology and IRS Campaigns working groups (2017–2018) and the Tax Reform Task Force (2017–2018).
Since joining Vertex, one of TEI's Platinum sponsors, Mike has continued to be a staunch supporter of the Institute. He is a frequent speaker at Institute, chapter, and regional events and consulted greatly on the formation of TEI's Tax Technology Seminar, a cornerstone event.
Mike's volunteer service includes being a board advisor to the Business School of Franciscan University of Steubenville (2017–present), a board advisor to the University of Washington School of Law (2018–present), and a lecturer of law at the University of Washington School of Law (2015–present).
A snapshot of Mike's impact on the Seattle tax community:
"Early in my career and my TEI membership, Mike was very generous with his time and encouraged me to get involved, by speaking on a panel, for example. Later in my career when I was on the TEI Seattle board and started putting together technical sessions, I witnessed him do this for others, introducing me to staff at Microsoft so that they could network and get involved as well. He really shows up as a leader that supports TEI's mission of networking and supporting an inclusive tax community."—Michell Rodriguez
"Mike built the relationship with the University of Washington School of Law that led to the annual UW-TEI Seattle Chapter event. Mike was active in the planning of that event for thirteen years."—Jonnell Quarrie and Steve Grieger
"I first met Mike at Microsoft and was able to work closely with him to support his indirect tax team. He was a thoughtful business partner and was very patient—as I would come to him with ideas, issues, or ask for his mentoring. We have since both moved on from Microsoft, but I was able to continue work with Mike for presenting alongside him for TEI, get his input for Vertex, or his mentoring. His passion and commitment for sharing knowledge and seeking excellence through technology advancements for our tax community is what makes Mike deserving of TEI's President's Award this year."—Ju Lee
"Mike is a great tax professional but an even better person! Mike is evidence that nice guys can finish first! Those fortunate enough to work with Mike know that he was best in the 'clutch,' and the bigger the challenge and the stiffer the headwind, the more you wanted him on the team."—Kurt Lamp
"In addition to the well-documented professional and TEI accolades, I would add that Mike is a supporter of people—he always had time to share thoughts and perspectives on career growth with me and others I'm aware of. Knowing the type of person Mike is, I'm sure there are dozens more that he has provided meaningful guidance to over the years. Even beyond these more focused career discussions, Mike also has a great way of engaging one-on-one that connects and makes you feel that he is genuinely interested in your success and helping you navigate your way. For these reasons and many, many more, Mike is deserving of this award."—Andy Vickers
Without question, Mike satisfies the criteria to receive the President's Award.  He has rendered outstanding service to TEI throughout his long career.  He has consistently demonstrated professionalism and leadership, promoted active participation by members, and advanced the Institute's objectives.