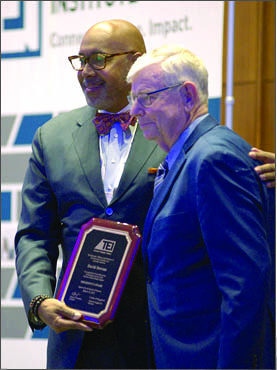 TEI also presented the President's Award to David Stevens at TEI's 73rd Midyear Conference. In his nomination letter, TEI's international president, Wayne Monfries, detailed Stevens' accomplishments as follows:
In accordance with Tax Executives Institute's award guidelines, I am pleased to nominate David (Dave) Stevens to receive TEI's President's Award. Dave has been a member of TEI since 1994 and has played an active role in TEI during his tenure. He retired from Cook Inlet Region Inc. in July 2021, following a career that spanned over forty years of working with companies such as Honeywell, Micron Technology, Circle K, Hollywood Entertainment, Movie Gallery, and Afognak Native Corporation.
Dave has contributed to the Institute at the chapter and Institute levels. At the chapter level, Dave served as chapter president (1998–1999) and chapter representative (2001–2003) of the Arizona Chapter. He also played an active role in the Alaska Chapter, serving as chapter representative (2011–2017 and 2019–2021) and chapter board director (2017–2020). Dave also assumed various chapter committee chair roles, including the Federal Tax Committee (2000–2004), the US International Tax Committee (2004–2005), and the Membership Committee (1999–2000).
At the Institute level, Dave served as the regional vice president for Region 8 (2009–2010) and was a member of the board of directors from 2011 to 2017 and from 2019 to 2021. He served on the Executive Committee from 2014 to 2015 and again from 2019 to 2020. He was chair of the Awards Committee (2021–2023), a member (2009–2017) and vice chair (2014–2021) of the Financial Reporting Committee, a member (2018–2020) and chair (2018–2019) of the Tax Technology Subcommittee, a member of the Nominating Committee (2010–2011), and a member of the Tax Reform Task Force (2013–2017).
In addition to his chapter and committee leadership roles, Dave has served on many task forces and played an instrumental role in fulfilling several international presidential goals. Most notably, Dave led the Nominating Committee working group in 2019–2020 during Katrina Welch's presidential term. The working group recommended changes to the Institute's nomination process and required extensive conversations and input from many parties. Dave's thoughtful and collaborative approach helped ensure a fair recommendation and trust in the critical process for selecting Institute leaders.
Without question, Dave's contributions exemplify the highest degree of commitment and service to TEI and its mission.