At TEI's 77th Annual Conference, the Institute presented awards to three key members in the TEI family: Debbie Giesey, Judy Zelisko, and Paul O'Connor.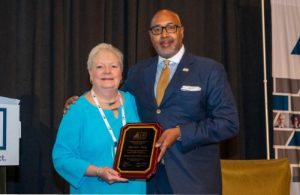 Debbie Giesey
TEI presented the Distinguished Service Award to Debbie Giesey, TEI's director of administration, who retired in October 2022. The award recognizes outstanding service to TEI and the tax community. In his nomination of Giesey for the award, TEI's international president, Wayne Monfries, detailed her accomplishments as follows:
A native of Ligonier, Pennsylvania, Debbie has provided invaluable service to TEI for nearly four decades. Her tenure is notable not only for its length but also for the broad range of responsibilities she has assumed. Debbie joined TEI in 1984 as an executive assistant, where she took dictation (using a pen and pad) and wrote checks (manually) once a week under executive director Ned Sprague. When TEI's accounting function was brought in-house, Debbie assumed responsibility for TEI's bookkeeping. Debbie worked with Tom Plutz (her predecessor as director of administration) on a wide variety of matters, including securing certification for TEI programs to receive CPE in all states and under the rules of the National Association of State Boards of Accountancy. Tom became seriously ill in 1995–1996, and Debbie assumed his role on an acting basis, taking responsibility for TEI's payroll, benefits, membership, office administration, and information technology. Mike Murphy, TEI's executive director from 1992 to 2001, coached Debbie and promoted her to director of administration after Tom passed away in August 1996.
Although TEI eventually hired a director of information technology and a director of membership, Debbie has never been far away from either function. For several years, she supervised TEI's membership coordinator and oversaw the establishment of an online approval process for membership applications, which previously had been mailed to and from chapters and the Membership Committee for approval. She has also been a constant resource for TEI's leaders, guiding them through TEI's history and policies and overseeing TEI's governance and archives. Indeed, given her intimate involvement in TEI's financial operations, it fell to Debbie to orient TEI's international and chapter treasurers to TEI's financial operations, processes, and procedures.
As evidenced by the broad range of duties and her promotion to director of administration, Debbie has always volunteered to step up for challenges. She has trained and worked with countless TEI staff members (in every Institute function), supported six executive directors and thirty-eight international presidents, and helped countless other chapter and Institute-level leaders. Debbie is a familiar face at the registration desk at TEI's Annual Conferences, Midyear Conferences, and Annual Meeting of Members, and she is an effective ambassador for TEI. She has made all TEI's members feel welcome and a part of the TEI family.
Finally, I would be remiss if I did not mention Debbie's love of family, her loyalty to TEI, her deep friendship with many members over the years, and her utter dependability. I have had the pleasure of knowing Debbie for more than twenty years, and I know from personal experience and from conversations with former and current members of the staff that her attention to detail, her commitment to TEI and its mission, and her indefatigability have benefited the Institute and them personally.
Debbie is an unparalleled source of institutional knowledge, operational experience, and personal insight and has served TEI with distinction and love. She is one of a kind. Her dedication and commitment have brought honor to the Institute and enabled TEI and its members to accomplish their education, networking, and advocacy objectives seamlessly, and always with a sense of belonging and connection. 
---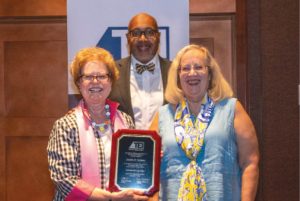 Judy Zelisko
TEI presented an honorary membership to former TEI international president Judy Zelisko. The award recognizes outstanding service to TEI and the tax community. Zelisko was nominated by Cathy Stevens, Region 6 regional vice president (2020–2022). In her nomination letter, Stevens detailed Zelisko's accomplishments as follows.
Judy has served the Institute, its members, and the tax community at large with distinction since 1981 and is thoroughly deserving of this recognition. Judy has been a trailblazer throughout her professional career.
Among the first generation of females to graduate from Harvard Law School, Judy began her professional career in 1975 as a tax associate at Baker McKenzie LLP in Chicago before joining the tax department of Brunswick Corporation, service which would extend for over forty years. At Brunswick, Judy became the first female corporate officer, serving as Brunswick's vice president of tax and chief tax officer, where she oversaw worldwide tax operations, including business expansion and strategic planning, as well as numerous structural and operational decisions that contributed significantly to Brunswick's success.
Judy joined the Chicago Chapter of TEI in 1981, being active in chapter affairs, committees, and rising through the officer ranks prior to becoming the chapter's first female president in 1994. Following her term as president, she became the Chicago Chapter's representative to the Institute board of directors and subsequently was elected to be TEI's vice president, Region 6. Even as she became active at the Institute level, Judy remained engaged in chapter affairs. She diligently attended Chicago Chapter board calls and annual planning meetings and continually recruited other tax executives to step up their involvement in the organization, both locally and at the Institute level.
Judy was a longtime member of TEI's International Tax Committee at both the local and Institute level. Having previously served as chair of the Institute's Communications Committee, in 2001 she was appointed chair of the International Tax Committee. The following year Judy joined TEI's serving officer ranks, serving first as Institute secretary-treasurer (2002–2003) and then senior vice president (2003–2004). In 2004, she was elected TEI's international president.
The theme of Judy's term as TEI's president was "Be Effective, Stay Effective." Her goals included launching a new website, completing a survey of corporate tax departments, furthering more timely communication of advocacy opportunities, expanding membership, establishing a chapter in Asia, and realigning TEI's staff.
Highlights of her presidential year included:
testifying before the Senate Foreign Relations Committee (a first for TEI) on two tax treaties;
making a submission to the Public Company Accounting Oversight Board (another first!);
submitting recommendations about the implementation of the American Jobs Creating Act;
participating in government liaison meetings in Washington and Ottawa;
holding an Annual Conference in New Orleans to celebrate the Institute's 60th anniversary (which, among other things, attracted twenty-one past Institute presidents);
engaging speakers at TEI conferences during the year included the secretary of the Treasury, commissioner of Internal Revenue, IRS chief counsel, and the chief accountant of the Securities and Exchange Commission;
modifying TEI's bylaws to allow telephonic meetings of the board of directors; and
hiring Eli Dicker to be TEI's chief tax counsel. (Eli, of course, eventually became TEI's executive director).
In addition to her volunteer efforts with TEI, Judy served as the president of Brunswick's foundation, which awards scholarships to the children of Brunswick employees. Judy was also a founding member of Brunswick's women's network, which provides mentorship and professional development to women within the organization as an enterprisewide effort. Judy remained on the board of advisors for the University of Illinois' masters in tax degree program and on the dean's advisory board for Syracuse University's College of Arts and Sciences. Finally, Judy is a past chairperson of the Manufacturers Alliance for Productivity and Innovation (MAPI) Tax Council and also served on the Tax Leadership Committee of the National Association of Manufacturers.
Throughout her career as an in-house tax professional, Judy demonstrated extraordinary commitment to TEI, at both the chapter and Institute levels. Judy has consistently and enthusiastically supported the TEI brand with respect, professionalism, and leadership. She was a coach, mentor, and strong role model for female tax executives, both at Brunswick (where I and my company colleagues personally benefited from it), at TEI (locally, regionally, and internationally), and the broader tax community. She truly "walked the talk."
---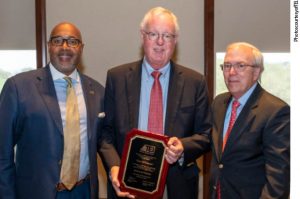 Paul O'Connor
TEI presented an honorary membership to former TEI international president Paul O'Connor at TEI's Annual Conference. The award recognizes outstanding service to TEI and the tax community. O'Connor was nominated by TEI's international president, Wayne Monfries. Monfries detailed O'Connor's accomplishments as follows.
Paul has a long and distinguished professional career in tax, with experience in the technology, software, and bioscience fields. For three decades, he was the chief tax officer for Millipore Corporation (now, EMD Millipore, a wholly owned subsidiary of Merck KGaA, Darmstadt, Germany), a company engaged in bioscience research and chemical and pharmaceutical production. Paul began his career as a corporate accountant with BankBoston (1974–1978), as a tax specialist for Ernst & Whitney (1979–1983), and as Cullinet Software's director of taxes from 1983 to 1988. He holds a BS in finance from Boston College, a JD from Suffolk University Law School, and an LLM in taxation from Boston University School of Law. He is a member of the Massachusetts Bar and a certified public accountant, licensed in Massachusetts.
During his more than a quarter century as a TEI member, Paul was highly active at both the chapter and Institute levels and exhibited exemplary leadership and vision to foster the development, growth, and success of the Institute. He served on numerous committees and task forces throughout his tenure. For example, Paul was a member of the State & Local Tax Committee from 1993 to 1997, the Tax Reform Task Force from 2017 to 2022, the Internal Affairs Committee from 2010 to 2011, the Membership Recruitment Task Force from 2014 to 2015, and the Nominating Committee from 1996 to 1997, 2001 to 2004, and 2009 to 2012. He was also a member of TEI's IRS Administrative Affairs Committee from 1999 to 2007, serving as its vice chair from 2001 to 2003 and as its chair from 2003 to 2005.
Paul was active in the New England Chapter from the time he joined the Institute and served as chapter president from 1996 to 1997. He recruited countless new members and mentored tax executives within the chapter and elsewhere. Paul was an active member of TEI's board of directors (1997–1999, 2000–2001, 2005–2014, and 2018–2022). He served on TEI's Executive Committee from 2005 to 2006 and from 2009 to 2011. In 2007, Paul was elected an officer of the Institute, becoming its treasurer (2007–2008), secretary (2008–2009), senior vice president (2009–2010), and international president (2010–2011). Since then, he has been an active past international president and offered his expertise and insights by serving on the Advisory Committee to the President (2011–2022).
Paul's presidential year was themed "Join Us, Grow with Us—Educating, Advocating, and Serving the In-House Tax Community," and the goals Paul devised retain relevance to the organization over ten years later. Paul sought to develop a strategy for integrating cost-effective distance learning opportunities for TEI's educational programs at the Institute and chapter levels. This effort culminated in a survey to assess member needs and wants and an exploration of opportunities to enhance TEI's webinar offerings.
Paul's goals as president also focused on increasing the utility of TEI's website and electronic means to enhance member benefits from Institute and chapter programs. His advocacy objectives included continuing constructive engagement with tax administrators at all levels, seeking opportunities to expand advocacy with other regulatory boards such as the OECD, SEC, FASB, IASB, and other comparable organizations, and further engaging on tax reform initiatives in the United States and elsewhere. Networking was also a priority during Paul's presidential year, which included expanding programming for chief tax officers, enhancing TEI's online network for members, and addressing how to attract younger members. Paul also prepared a comprehensive review of TEI's operations, including a strategic review of revenue sources and professional development and succession plans for senior staff. In a column summarizing his term in office, Paul expressed pride in the Institute's "meeting the challenges of a changing world."
Since his presidency, Paul has remained a strong friend and resource to the Institute, its members, and its staff, serving as a ready resource and sounding board. Paul's friendly and approachable personality has enabled him to relate comfortably and effectively with TEI members and staff at every level. He has always been willing to share his experience, insight, and perspective thoughtfully and constructively; he has been and continues to be an excellent ambassador for the Institute. Paul has rendered outstanding service to TEI, demonstrated professionalism and leadership, promoted active participation by members, and advanced the Institute's educational, networking, and advocacy objectives. He also served with distinction as a member of the Internal Revenue Service Advisory Council (IRSAC), including one year as IRSAC chair. Without question, he satisfies the criteria for honorary membership.