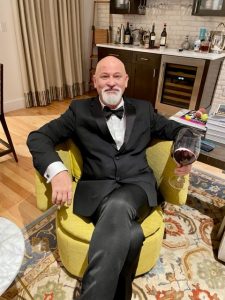 TEI posthumously honored Eric Lee Johnson with the President's Award at TEI's 73rd Midyear Conference. Kris Rogers, Johnson's partner, accepted the award, which recognizes and expresses the Institute's appreciation for long-term meritorious service. Johnson's parents, Johnny and Sally, his sister, Monica, and nephew, Jonah, joined us in Washington, D.C., for the award presentation. In nominating Johnson for the award, TEI's international president, Wayne Monfries, detailed his accomplishments as follows:
I respectfully nominate Eric Johnson to receive Tax Executives Institute's President's Award posthumously. Eric was the senior vice president, tax and legislative affairs, at Ross Stores Inc. He also served on the TEI Executive Committee and the board of directors at the time of his passing in January 2023. Based on personal experience and discussions with the Institute's leaders and membership, Eric's service and accomplishments merit the Institute's recognition at TEI's Midyear Conference.
Eric began his career over thirty years ago, serving in roles with Intel Corporation as the senior director; tax operations director at PwC; tax director at Mission Foods; and senior tax associate at Arthur Andersen. In 2013, he joined Ross Stores Inc. as the group vice president, tax, and then moved into his final position of senior vice president, tax and legislative affairs.
Eric joined TEI in December 2006, holding several volunteer roles during his membership. Eric was a member of the Silicon Valley Chapter, in which he served as a chapter secretary, treasurer, senior vice president, and first vice president from 2012 to 2016. Eric also was chapter president of the Silicon Valley Chapter from 2016 to 2017 and was the chapter representative in 2022 and 2023.
Eric served on TEI's board of directors from 2017 to 2018 and from 2020 to 2021. In 2022, Eric renewed his term on the board, which included service on the Executive Committee. Eric also participated in several TEI committees, including holding leadership positions such as committee vice chair of the Tax Reform Task Force from 2018 to 2021, vice chair of the Financial Reporting Committee from 2017 to 2021, chair of the Financial Reporting Committee from 2012 to 2017, and chair of the Communications & Technology Committee from 2018 to 2021. Eric also held the position of chapter committee chair for the Emerging Tax Professionals Subcommittee (2016–2017) and the Financial Reporting Committee (2010–2011). He participated as a member of the Continuing Education Committee (2014–2020), the Corporate Tax Management Committee (2017–2020), the Tax Technology Committee (2017–2019), and the Nominating Committee (2015–2016).
Eric's acumen, strategic vision, and commitment made him an outstanding practitioner and an incredible asset to TEI. However, as all those who had the privilege of knowing Eric will agree, what made Eric so special was his kindness, loyalty, concern for the well-being of others, and sense of humor. He has been an integral part of our TEI family for nearly two decades.
Without question, Eric was a huge supporter of TEI. For the foregoing reasons, it would be fitting for TEI to honor Eric's service to TEI and the in-house tax community. `