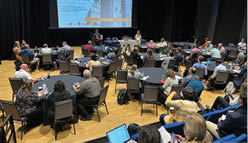 This September, TEI held its first Audits & Appeals Seminar since 2019, welcoming over 120 attendees and seventy faculty members to brand-new, light-filled Capital One Hall in Tysons, Virginia.
This year's seminar featured federal tax controversy and state and local tax controversy tracks, and was well-timed given the recently enacted Inflation Reduction Act, which adds more than $80 billion in funding to the Internal Revenue Service.
The federal tax track included sessions and workshops featuring eight IRS officials. The state and local tax track featured state tax auditors' and state tax judges' roundtables and a writing workshop.
A special thanks to TEI member Brian Kaufman, vice chair of the Institute's IRS Administrative Affairs Committee and lead on several IRS working groups, for facilitating TEI's use of the Capital One space; IRS Administrative Affairs Committee Chair Kristen Bauer and State and Local Tax Committee Chair Natalie Friedman for their work on the agenda; and TEI platinum sponsors Mayer Brown and Eversheds Sutherland for sponsoring the event and attendee networking functions.