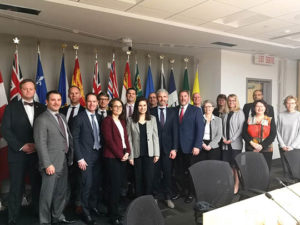 On December 10–11, members of the TEI Canadian Income Tax Committee and the Canadian Commodity Tax Committee assembled in Ottawa, Ontario, for TEI's annual liaison meetings with
representatives of the Canada Revenue Agency and the Department of Finance. This year's meetings featured robust agendas covering a range of federal income and commodity tax law, policy, and administration issues of importance to many TEI members.
Kurtis Bond, chair of the Canadian Income Tax Committee, led TEI's income tax delegation, and Chantal Groulx, chair of the Canadian Commodity Tax Committee, led the commodity tax delegation. The delegations were accompanied by James A. Kennedy, TEI's senior vice president; Josephine Scalia, vice president for Canadian affairs; Eli Dicker, executive director; and tax counsels Watson McLeish and Pilar Mata.
Copies of TEI's substantive meeting agendas will be posted online this spring (www.tei.org/advocacy/liaison-meetings) and published in a future issue of Tax Executive magazine.