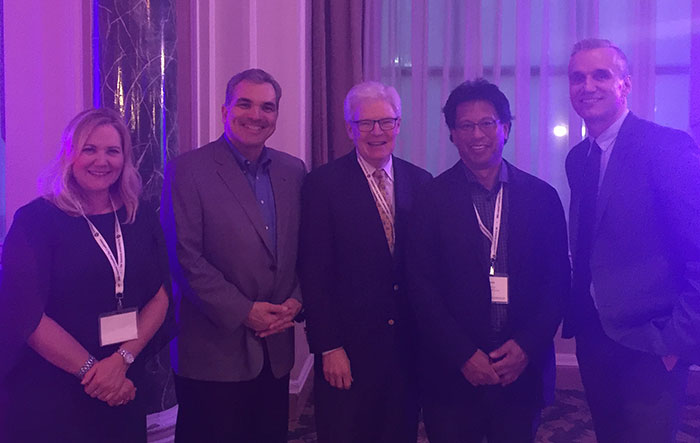 The Fiftieth Annual Canadian Tax Conference was held at the Château Laurier in Ottawa, May 1–4. The conference planning committee included Lynn Moen, TEI vice president for Canadian affairs (Walton Global Investments); Richard Taylor, chair of the Canadian commodity tax committee (Rogers Communications); Grant Lee, chair of the Canadian income tax committee (HSBC Bank Canada); and Kim Berjian, conference advisor (ConocoPhillips Canada).
The three-day conference provided outstanding technical sessions. Moen and TEI International President Sandy Macfarlane welcomed attendees to the first day of the conference. Canada Revenue Agency speakers included Mickey Sarazin, the director general for the income tax rulings directorate; Randy Hewlett, director of the international division; Danielle Laflèche, director general of excise & GST/HST rulings; Patrick McKinnon, director, excise, and GST/HST rulings; Cindy Negus, director, large business audit and program integration division; Monica Jones; Tammy Myers, director, e-services innovation and development; Dawn Weisberg, manager, financial institutions unit; Lorrie McAnulty, manager, special provisions, financial institutions unit; Chris Lewis, manager, real property unit; and Geoff MacMillan, manager, services and intangibles unit. Department of Finance speakers included Brian Ernewein, general director, tax policy branch; Trevor McGowan, senior chief, international inbound investments; and Sean Keenan, director, tax policy branch.
Former Premier of Québec Jean Charest, former New Democratic Party advisor Robin Sears, and former federal conservative minister Greg Rickford, who served under the Harper administration, provided entertaining and informative insights during the luncheon panel "The First Six Months: A Review of the Liberal Government's Policies and Performance." On Monday evening, conference attendees paid special tribute to TEI's Canadian past international presidents: Alexander B. McKie, G. Maxwell Phillips, David L. Burn, Reginald W. Kowalchuk, J. A. (Drew) Glennie, Vincent Alicandri, and David M. Penney. On Tuesday evening, conference participants celebrated the fiftieth anniversary of the Canadian Tax Conference with a festive gala in the Château Laurier's elegant drawing room.