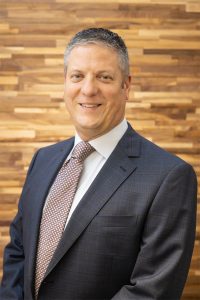 After Scott Tincher started his tax career in Columbus, Ohio, he returned to his roots in Cleveland in 2005. He knew that he needed to build a new professional network after moving from Columbus. His solution was one you might have thought of yourself at one time or another: joining TEI.
Tincher's first leadership role in the Cleveland Chapter was as treasurer for the 2013–2014 fiscal year. After that, he rose through the officer positions and eventually was chosen chapter president for the 2017–2018 fiscal year. In 2020, he became the chapter representative. Tincher's term expires in 2023. Recently, he was named the new regional vice president for Region 5 for the 2023–2024 fiscal year.
Scholarship Golf Outing
During Tincher's tenure as chapter representative, the Cleveland Chapter held its sixth annual Scholarship Golf Outing, with fifteen firms sponsoring twenty-two teams. This event funds scholarships for students at four Cleveland-area universities. "We also hosted our first-ever CPE/wine-tasting event at a local winery, which was very well received and drew many of our senior members," he notes.
Until the end of January 2023, he says, the chapter's events will be virtual due to busy workloads, the holiday season, and, yes, Cleveland weather. In February, however, the chapter plans to return to live events, including a session at TopGolf and the popular one-day seminar in May.
Advice for Chapter Leaders
Tincher has several practical pieces of advice for other chapter leaders. In particular, he recommends talking to members of other chapters and not being afraid to try new things. As he says, "There are many great ideas out there, so you don't need to recreate the wheel." His other main recommendation is to have a mentor and to be a mentor to others. He has observed that the most successful people like to share their lessons.
Being a mentee paid off for Tincher from the beginning of his career. He says that, as a student, he had always wanted to do something in the business field. "While at Ohio State," he says, "I was drawn to accounting, where everyone seemed to have jobs lined up after their junior year. A family friend was a tax manager at Deloitte, and he quickly became my mentor in college and then professionally."
Tincher's experience at Deloitte made him realize that he did not want to be an auditor. "For one summer, I stepped into a short-term audit role. Figuring out what you want to do is tough for any college student or recent graduate. But part of that process is also figuring out what you don't want to do," he explains.
The Culture at Covia
Now director of taxation at Covia Holdings LLC, a provider of mineral and material solutions to a variety of industries, Tincher says he was attracted to the company because of its culture. "I had friends and spouses of friends who worked here, and all had amazing things to say about the company. When I was hired, it was a two-person department—now it's four—and I knew I preferred smaller groups where there is an opportunity to work on a broader range of issues," he explains.
What's the most interesting tax issue he's worked on at Covia? Tincher says it's hard to pick just one. "I'm about to celebrate my fifth anniversary here, and we've merged with a competitor, spun off subsidiaries, and gone through a bankruptcy. Harmonizing tax methods after the merger was probably the most interesting," he says.
The TEI Experience
Tincher praises TEI for how it paves the way to making friends and connections. "I met many of my best friends through TEI, and at most of our events I'm among the last to leave at the end of the evening," he says.
For his greatest accomplishment, he cites family—raising two incredible kids. "They're both in college now, and I couldn't be prouder of them both," he says.
When not immersed in tax issues, Tincher often turns to traveling. "I love to travel! I've been to all fifty states and have a personal goal of visiting all 420 sites in the national park system. I've been to about a third. I'm also relatively new to the Jeep family, so I enjoy summers without the doors and roof and occasionally take it off-road."
One final thing. You might not want to mess with Tincher. When he was younger, karate was his sport. He was a black belt and fought in the Pan American games.