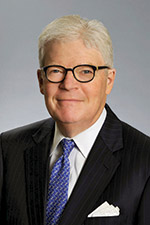 It is an honor to serve as your international president. While it seems like only a short time ago that I received the happy news from Nominating Committee Chair Paul O'Connor that I had been nominated for TEI treasurer, almost four years have, in fact, passed.
During that time, I have observed TEI from the various positions of the Institute's senior leadership queue, the goals that have been set, initiatives commenced and completed. All the while, I have been considering how, when my turn came, I would try to make my mark on our organization, to advance TEI's mission of serving the needs of the in-house tax professional community around the world. Well, my term has just started and I chose Building for the Future as the theme for the 2015–16 year. This theme reflects my belief that we as an organization must continue to grow our membership by ensuring that we meet the changing needs of in-house tax professionals, both present and future, by carefully adapting our education, networking, and advocacy missions.
The first step in this effort was to share my proposed goals with our team at TEI's Leadership Foundations Seminar, held this year at the Grove Park Inn in Asheville, North Carolina. Over the two days, we discussed these objectives in detail, outlining my thinking and explaining my priorities. As I left Asheville, I was particularly struck by the energy and enthusiasm of our group, their focus, commitment, and desire to forge ahead.
In the coming year, our energies will be directed toward the following initiatives.
Expanding Current and Future Membership Bases 
The lifeblood of TEI is its members. Staying in touch with their needs and expectations will continue to keep TEI relevant and a key part of their professional lives. However, because the in-house community has, over time, become far more diverse on many levels, it is imperative that we as an organization carefully identify those different needs, tap into them, and provide corresponding value. Put another way, we must endeavor to give all in-house professionals a reason to join TEI. In this regard, most recently, we have begun to scratch the surface to reach the emerging tax professional, i.e., those in the early stages of their careers. Because they may learn and acquire knowledge and intelligence differently, it is imperative for us to expand TEI's value proposition to make it attractive specifically for them. In some respects, we will be creating new value to make TEI appealing to this generation of in-house professionals.
At the same time, we will embark on a three-year effort to deepen and expand our existing membership base by developing and implementing a detailed marketing strategy to identify industries and companies which are under-represented in our membership as well as expand the representation from existing companies. The critical dimension here is a well-developed and integrated strategy involving Institute, regional, and chapter resources to set aggressive yet realistic goals and the means by which to measure them.
Overhauling TEI's Web Capabilities
This year TEI will commence a three-step process to substantially overhaul and refresh its Web capabilities and databases, all focused on making them more interactive, informative, and user-friendly. Vendor selection, requirements identification, and implementation will be undertaken in the coming year, and I am confident that we will maintain a steady pace throughout the year. A successful Web redesign and implementation will come from a healthy push and pull to identify needs and wants and must-haves versus nice-to-haves, all in the context of fiscal prudence and common sense. We aspire toward functional, navigable, and scalable capabilities that will not only serve today's needs but also position us for the future. Our organizing team will include representatives of TEI leadership, membership and staff, techies and nontechies alike to help ensure that what's going on in Washington, D.C., is fully aligned with the needs of our members throughout the TEI world. Again, I know we will invest the Institute's resources wisely.
Structural Reviews and Check-ups 
With our continued international growth (with members now on six continents!), we will reach out to our members outside the United States to ensure that TEI's offerings meet their needs. In addition, building on the comprehensive efforts of the Continuing Education and Diversity Task Forces, by year's end we will present action items to the Executive Committee and board, as necessary, related to TEI's current Annual Conference footprint, as well as recommendations stemming from the CE Report's assessment of TEI's overall educational program. Further, we will take a fresh look at our technical committee structure to ensure it is meeting the advocacy and educational needs of our members and whether modifications are necessary. This is especially timely given the increase in advocacy and educational activity in Europe and Asia, as well as our having recently welcomed our Latin America chapter to the TEI fold. As part of that overall review, the recommendations of the Diversity Task Force will also be considered and acted upon.
Several other structural check-ups are also planned; in particular, a review of TEI's investment guidelines (i.e., how, where, and in what proportion does TEI invest its funds), as well as an assessment of our portfolio's overall performance over the past two years (since TEI commenced investing some of its balance sheet in equities).
These goals are aggressive and, for some, come with short deadlines. These timelines were established by design to compel action without undue delay on the outstanding task force work done over the past couple of years. In other instances, most notably our Web redesign undertaking, my expectation is that our efforts will proceed at a steady pace.
An executive committee liaison has been assigned to every goal and will be regularly interfacing with the teams assigned to each. A listing of the 2015–16 goals, liaisons, and assigned teams can be found at www.tei.org. I encourage you to reach out to them if you have an interest in contributing to their work. Your input and contributions are most welcome.
I hope to see you in Dallas at TEI's 70th Annual Conference October 18–21.
Warm regards,

Sandy Macfarlane
TEI International President