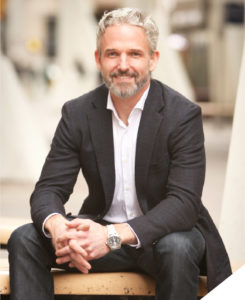 Kurtis Bond first gravitated toward tax when he was in law school. "I think it was the problem-solving that initially interested me—the challenge of figuring out how to navigate and interpret a complex statute that applies to a wide range of relationships," he explains.
In addition, Bond says, he really liked (and still likes) how integral tax is to modern society. "It's a driver of behavior, a tool used by governments to effect change and fund initiatives, and it is constantly changing to (ideally) reflect current values," he says. For example, Bond notes, "if you look at what's happening in the world right now, tax is always in the news—the global OECD BEPS initiatives that impact multinational tax-base considerations, the recent U.S. tax reform that has highlighted international competitiveness concerns, and the changes to the taxation of small businesses and their owners in Canada that have impacted the day-to-day lives of many individual taxpayers."
Bond, now tax manager and managing tax counsel at ConocoPhillips Canada, says his time at the company has provided him with diverse experiences, including planning and executing complex reorganization transactions; navigating audits, appeals, and litigation matters; and dealing with tax accounting in an international company. "It's all interesting," he says, and "the best part of being in tax is that you're never done learning."
Bond calls the Canada tax team at ConocoPhillips "exceptional": "They're a great group of talented individuals that really know their stuff and work well together. Being a Canadian subsidiary of a U.S.-based multinational company, we also work closely with our U.S. colleagues, and the relationships that have been developed there have allowed us to collaborate very effectively. I think the ability to discuss and understand everyone's concerns and work toward a common objective to provide the best result for the enterprise has been a huge benefit to the organization."
Private Versus Corporate Practice
Prior to ConocoPhillips, Bond was in private practice at a law firm. How do the experiences compare? "Both have their pluses, but I really enjoy where I'm at now," he says. "I went into law school thinking that I would use the skills for business and didn't really intend to practice law in the traditional sense, so being at a company where you can participate in business decisions, impact the direction of the company, and see the long-term impact of your and others' contributions is really satisfying. I like the interaction of tax and business, and being at a company provides the opportunity to experience and learn how to navigate that on a daily basis. That said, I think there are significant benefits to spending time at a law firm, and I'm glad I ended up spending the time I did in private practice. The diversity of issues that you're exposed to and the depth and diversity of expertise at a firm are things that you won't get from most in-house tax roles. Being at a firm provided me with the skills and experience needed to understand the technical aspects of tax; being at ConocoPhillips has taught me how to integrate those skills into the business, collaborate with multiple teams, and create value. I also enjoy not having to worry about billable hours."
Bond says he's been fortunate to have been given the opportunity to work with and become friends with many of the brightest and most successful tax practitioners in Canada and the United States throughout his career, citing as an example TEI's Canadian income tax committee. "We have developed constructive relationships with the Canada Revenue Agency and the Department of Finance that have allowed us to participate in tax policy discussions and effect positive change for taxpayers that wouldn't have been possible if we'd attempted to go ahead on our own," he explains.
Outside Interests
When he's not absorbed in tax issues, Bond has several different hobbies and outside interests. He has canoed from Yellowknife to Great Bear Lake, Northwest Territories, and cycled from San Francisco to Winnipeg, Manitoba. In addition, music has been a big part of his life, and he spent a lot of time playing guitar growing up. "It's a struggle to find the time to play now, but the guitar is still sitting in the house and gets picked up on occasion. I don't sing, which my wife and two girls appreciate," he notes.
Bond also loves getting outside to spend time mountain-biking and keeping up with his young family. "I think I've hit the 'divorce minus one' number of bikes my wife will let me keep in the garage. Trying to keep up with my girls on skates and convincing them that I was once a gymnastics phenom (I wasn't) by doing a 'chin-up pullover' without causing a trip to the ER also keeps me busy."
More evidence of his outside interests? "If law school didn't work out, I was going to be a scuba instructor," he says. "I prepared for the LSAT [law school admission test] by doing practice exams in Utila, Honduras, sipping Cuba libres between dive sessions training to be a dive master, and guiding tourists. I highly recommend it as a stress-free way to prep for any kind of education entrance exam. It's also a great way to meet some colorful characters, and swimming with whale sharks, manta rays, and sea turtles is a very cool experience."