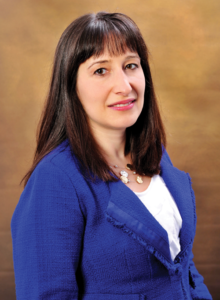 Some say that practicing tax law is like playing chess. If that's true, then Julia Lagun, a competitive chess player since age four, has had quite a lot of practice. Lagun, senior vice president and senior tax director at KeyCorp, has always been good with numbers and puzzles and has always been a fan of strategy games. And she's been gainfully employed since age fourteen as well. "I remember getting my first W-2 and preparing my first 1040EZ by hand," she notes.
But it wasn't until her second year of college that she actively began pursuing the path to becoming a tax lawyer. "As I was working on my undergrad in accounting, my individual income tax course professor strongly encouraged me to apply to law school after a class project in which we had to advocate a client's tax position," Lagun explains.
Research and Advocacy
Lagun particularly enjoys the research and advocacy components of tax. "I enjoy utilizing my experience and creative thinking to come up with the best possible solution for the company. On the advocacy side, I enjoy working with the IRS to get to a place where both sides are comfortable that they got to the right answer," she says.
What is the most interesting tax issue Lagun has faced at KeyCorp? "I came to KeyCorp in November 2017, a few weeks before the new tax reform legislation passed," she says. "In my role, I focus on federal tax planning, M&A, tax controversy, and other special projects. Most interesting for me has been learning a completely new and different industry and exploring the tax planning opportunities the new tax reform legislation presents." As far as that landmark piece of legislation is concerned, Lagun says that, like many others, she was surprised by the fact that a comprehensive tax package, often years in the making, passed as quickly as it did. "Because of this compressed timeframe, it resulted in uncertainty and raised a host of unanswered questions. Taxpayers are awaiting additional guidance and, I think, will be very involved in providing feedback and comments. The tax reform legislation was very beneficial for many industries and enabled KeyCorp to further invest in its workforce through minimum-wage increases and additional 401(k) contributions."
Walmart Experience
Prior to coming to KeyCorp, Lagun had her first in-house role at Walmart. Here's how she describes that experience: "I learned the importance of building strong relationships with a variety of internal business partners to ensure that tax has a seat at the table and gets involved before decisions are made. This is something that continues to benefit me as I joined KeyCorp. In my role at Walmart, I had a number of unique opportunities to work on advocacy projects. One example was working with IRS, Treasury, and retail industry groups on the [IRS'] Industry Issue Resolution (IIR) project that was underway for several years. This guidance was finally released in 2015, to provide taxpayers in the restaurant and retail industries with simplified procedures to use in applying the new tangible property regulations and to reduce controversy between taxpayers and the IRS."
Deloitte Experience
Early in her career, various roles at Deloitte enabled Lagun to achieve a breadth of tax experience, positioning her for industry tax planning roles. She started in Deloitte's Chicago office, working primarily with manufacturers and retailers around the country in the area of accounting methods. Lagun had a number of unique opportunities at Deloitte, including a short-term assignment in the India office helping to train and develop staff there. "The thing that helped me most in establishing great relationships with the overseas staff was my genuine interest in learning about other cultures and adjusting my approaches to meet them where they were," Lagun says. She also participated in a rotation program in the national office in Washington, D.C., in the area of federal tax controversy, where she worked on protests and penalty abatements and helped clients resolve disputes with the IRS.
"In many ways, my personal immigration journey has defined who I am today—valuing the importance of recognizing diversity and being inclusive."
—Julia Lagun
Lagun says her greatest professional accomplishment has been balancing her career and family life; her greatest personal one, "coming to the United States as an immigrant, learning the language, assimilating in the culture, getting an advanced degree, and not being afraid to take chances on myself." Originally from Minsk, Belarus, Lagun immigrated to the United States in 1989 and settled in the Chicago area. She began fifth grade in a Chicago inner-city school knowing only a few basic phrases in English. "In many ways, my personal immigration journey has defined who I am today—valuing the importance of recognizing diversity and being inclusive. Everybody has a story, and sometimes it takes the effort of asking that additional probing question to learn things about others," she explains.
When not working on tax issues, Lagun enjoys traveling, learning about cultures, playing board games, and dabbling in real estate investments.
TEI Connection
Lagun appreciates what TEI has to offer tax professionals: "It's a great way to make connections and get involved in the tax community. In some ways, it has been the one constant that provided stability as I changed roles, geographies, and industries over the course of my career. It's an organization that has a voice and is extremely well respected in the tax community."