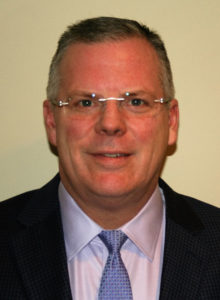 John Mann has distinct childhood memories that foretold his current career in tax. One involved attending a meeting with his mother and the tax advisor who prepared her tax return. Another was having that same advisor prepare his own tax return for part-time work during high school. "It's funny how simple experiences can leave big impressions," notes Mann, now divisional vice president of global tax planning at Abbott Laboratories.
The Abbott Experience
Mann has clearly enjoyed his tenure at Abbott so far. "What we are doing in health care makes a big difference for people, and our tax team is very innovative and collaborative," Mann says. "Our transfer pricing group has strong thought leadership and a deep connection to the business. Also, I joined a few weeks before the [Tax Cuts and Jobs Act] was enacted. In the ensuing months, the tax team has carefully analyzed the new law, built complex models, and revamped processes to determine the new law's impact on the company. This has been a herculean effort, and several people truly stepped up and led this work in a very impressive manner."
Mann's view of the recently enacted tax reform legislation? "I believe it makes the U.S. more competitive but is more complex than it needs to be and at times is counterintuitive."
"A Giant Puzzle"
"Tax is a giant puzzle, with myriad interdependencies, that makes it challenging and fun as we strive to optimize tax efficiency," Mann notes.
Sometimes, he says, that puzzle can be particularly perplexing. Here's how Mann describes a problematic tax challenge he encountered while working at Walgreens, a previous employer. "We partnered with M&A and other stakeholders for several months to evaluate the opportunities and risks of an inversion transaction. There were more cooks in the kitchen than I had ever seen, and our board was involved. Ultimately, we decided not to invert and successfully moved forward. During this time, my colleague had a sign in her office that said 'Enjoy the Journey.' In the end, I think I figured out what that really meant."
Indeed, Mann learned several valuable lessons from his jobs prior to working for Abbott. For example, he says, it is critically important to work across the company to align business and tax strategy. "In addition," he explains, "while structuring acquisitions is exciting work, ultimate success in M&A is dependent on effective integration. Further, feedback is a gift, and the best finance teams place a big priority on leadership and development."
Working With M&A at Walgreens
What does Mann regard as his greatest accomplishment? "An important achievement was working with M&A and key stakeholders to execute a two-step merger and integration of Walgreens and Alliance Boots over a four-year period," he says. "This merger was the central component of Walgreens' strategy to transform a 110-year-old, primarily U.S.-based company into a global business with a presence in more than twenty-five countries."
Mann is a solid TEI supporter: "For me, TEI has built a strong network of companies and sponsors that includes thought leaders on just about any issue we face. Two members were mentors to me and gave me invaluable advice along the way."
"While structuring acquisitions is exciting work, ultimate success in M&A is dependent on effective integration. Further, feedback is a gift, and the best finance teams place a big priority on leadership and development."
— John Mann
Volunteerism
Mann believes in volunteerism, in both tax and nontax arenas. For example, he prepares tax returns for Ladder Up, a Volunteer Income Tax Assistance [VITA] program in Chicago. And last year he began volunteering with a group of inmates in a local jail to try to positively impact their lives. "In the end," he explains, "I believe the 'starfish' principle applies to most of the community service in which we engage."