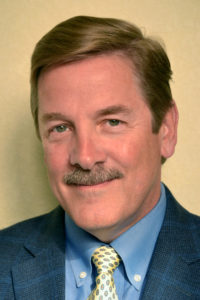 For Jim Kennedy, there was little doubt that his calling was to be a tax professional. In law school, Kennedy took every tax course he could and wrote a comment for the University of Pittsburgh Law Review on safe harbor leasing under ERTA and TEFRA.
"This interest in tax legislation led to my first tax attorney job at USX Corporation, where I had the opportunity to work on the process leading to and implementation of the Tax Reform Act of 1986," Kennedy notes.
Now senior vice president, finance and chief tax officer at OppenheimerFunds, Kennedy is thrilled to work for an asset management firm in the financial services industry. "The business is constantly evolving, and this affects both operations and strategy. I have the opportunity to be deeply involved in the development of strategy and its implementation in operations, which I enjoy very much," he says.
Kennedy has faced his share of problematic tax law problems. While no single tax issue stands out as the most problematic, Kennedy has had to face many challenges in the last three decades, including several in the international arena. In South America, he had to handle a retroactive tax imposed on industry exports, effectively shutting down the industry; in Asia, he dealt with an intractable transfer pricing dispute; and in Central America, he had to structure a transaction in multiple countries to minimize the potential for double taxation.
In addition, Kennedy says, he has had to deal with state litigation, figuring out how to achieve an appropriate settlement when one has won at mediation/administrative appeal yet the state refuses to accept the result. At the federal level, he has dealt repeatedly with complying with new statutes in the absence of regulation or guidance and with getting regulations changed to help his company without creating resistance from others in the same industry.
Concerning accomplishments, Kennedy thinks it's good to reflect beyond the numbers and dollars. "While I am very pleased to have been able to save hundreds of millions of dollars for my employers over the years, accomplishments are more meaningful when you look beyond the money," he says.
"Earlier in my career," Kennedy explains, "I was able to establish a charitable foundation to provide for donation of cancer drugs to needy patients. [Kennedy is himself a two-time cancer survivor.] I worked on customs duties and international trade matters (in addition to tax) and, through certain planning efforts, was able to create substantial savings which were used to fund research and development." Later in his career, as a CTO, he achieved double-digit reductions in effective tax rate in the face of considerable headwinds. "I have restructured companies to great advantage and to enhance the execution of business strategy. One of my favorites was planning for and drafting proposed legislation, testifying and supporting through enactment a fundamental change in state law affecting our industry. I've had good luck," Kennedy says.
As the incoming TEI treasurer, Kennedy has been a big booster of the organization. "TEI has been most rewarding to me in two respects. First, the technical analysis and updates at TEI meetings have enabled me to effectively protect my employers' interests and achieve substantial tax savings. Second, the network of colleagues developed over the years has become an invaluable asset to me professionally and given me many friendships," he says. "I greatly appreciate having the opportunity to look for ways to enhance the value that TEI can deliver to its members, to create the agility to respond to member needs and accelerated deployment of resources required to do so," he adds.
Kennedy has high hopes for the launch of TEI's redesigned website. "TEI's website can serve as a platform for evolving enhancements in our continuing education and networking offerings. TEI has meant a great deal to me in my career, and I want to see others have the same or better opportunities in the years ahead," he asserts.
When not dealing with ERTA and other challenging strategic and operational tax issues, Kennedy keeps busy with an eclectic set of hobbies and interests, including golf, skiing, hiking, home remodeling, landscaping, reading, and winetasting.