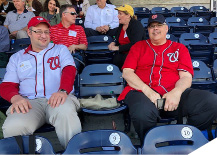 The Baltimore-Washington Chapter recently held its annual Washington Nationals/CPE event at Nationals Park in Washington, D.C. A morning of continuing professional education followed by an afternoon of baseball proved a winning combination.
Tom Frazier, chapter president, and his team organized and coordinated the day's activities. Frazier personally greeted each participant arriving at the ballpark, and a balloon featuring the new TEI logo was on display as part of the welcome. After ensuring that all attendees arrived safely to the CPE room, Frazier delivered opening remarks, after which tax attorneys from Ivins, Phillips & Barker (IPB) presented an excellent and informative CPE program covering accounting method planning and tax reform; attorney-client privilege, Section 7525, and protecting sensitive tax materials; and federal tax legislative and regulatory updates. IPB is a sponsor at the Institute level, and its associates regularly appear as subject matter experts on various panels.
Founded in 1935 by two of the original judges on the United States Tax Court, IPB was recently recognized as one of the best law firms in America by U.S. News & World Report (2019 edition) in the categories of tax litigation, employee benefits (ERISA) law, tax law, and trusts and estates law.
The indoor program concluded with a buffet lunch featuring hot dogs and barbecue with all the trimmings. The group then adjourned to excellent seats to watch the Nationals beat the Mets in perfect spring weather. This event has become a highlight of the Baltimore-Washington Chapter's year.