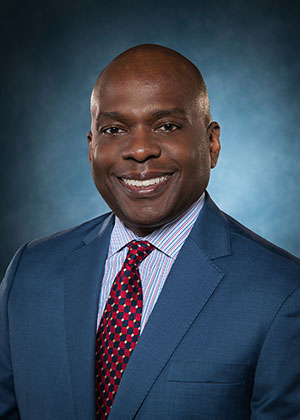 When Wayne Hamilton was in his second year of law school at North Carolina Central University Law School in Durham, North Carolina, he took two business tax classes. "I instantly knew I had found my niche as I realized that tax impacted every aspect of life—business or personal—in some respect," he says.
Hamilton, now senior director, global tax controversy, at Wal-Mart Stores Inc., is especially intrigued by how tax laws, when properly followed, can be used to augment the financial goals of business. "In particular, the days of tax being viewed as a staid compliance-oriented function are over. The value proposition for tax has shifted to being recognized as a value-driven business partner offering keen insights to help deliver on company financial and business objectives," he says.
Hamilton has continued to reinvent himself throughout his distinguished career because of the changing demands of a fast-paced business environment. He joined Wal-Mart in February 2009 as the leader of the federal controversy team, where he was responsible for building the relationship with the Internal Revenue Service and managing all federal controversy matters. In June 2014, Hamilton took on a rotational assignment as the leader of the property tax team at Wal-Mart, where he led twenty- five associates and managed the company's $1.4 billion of property tax expense.
Prior to joining Wal-Mart, Hamilton worked for JM Family Enterprises Inc., a privately held diversified automotive company in Deerfield Beach, Florida. At JM Family, he held a number of progressively more responsible positions over nine years, including tax counsel and associate counsel for a JM Family subsidiary. He also spent time as a product manager responsible for developing various vehicle-related finance and insurance products.
Before joining JM Family, Hamilton was a tax attorney for General Motors Corp. in Detroit. He also worked for District Counsel–IRS in Miami, where he litigated cases before the Tax Court and was involved in a variety of tax controversy issues related to administrative appeals, audits, criminal investigations, and collection matters.
Multiple Responsibilities
As the senior director, global tax controversy, at Wal-Mart, Hamilton is accountable for leading the company's global controversy team, with oversight for all federal and state tax audits in the United States while partnering with associates around the globe on international controversy strategy and resolution.
In addition to resolving complex tax issues, Hamilton collaborates closely with internal stakeholders and external advisors to ensure the success of future business initiatives that help to achieve company objectives.
"Throughout my career I have had the opportunity to work on a number of successful high-profile matters with significant financial impact," Hamilton says. "However, while the financial stakes were high for these matters, I would say that my greatest satisfaction has come from investing in the next generation of tax professionals." To this end, Hamilton sits on the Global Finance Institute (GFI) steering committee, which is Wal-Mart's learning initiative for its finance organization. GFI provides targeted technical and soft-skill training for all finance professionals.
In addition, Hamilton is the chair of Wal-Mart's African-American Business Resource Group, whose mission is to promote diversity and inclusion as a business imperative and to leverage the insights of African-American associates to help the business grow.
TEI and Millennials
Hamilton appreciates his association with TEI, especially, he says, "the opportunities to intermix both professionally and socially with preeminent tax professionals as well as tax administrators."
As an emerging leader, Hamilton knows it is important for TEI to attract millennials to its ranks. "I am not a millennial, but I think the answer is tangibly showing how TEI's value proposition aligns with the professional and personal aspirations of millennials. It is human nature for people to be attracted to things that satisfy a need. TEI has to effectively showcase how their value proposition satisfies the particular needs of millennials," he explains. To that end, Hamilton is currently leading a TEI subcommittee charged with putting together recommendations that will help TEI evolve and become more relevant as it expands its diversity and inclusion initiatives.
Cycling and Reading
When not thinking about taxes, Hamilton is into cycling and reading. Now he's combining those two passions: "I'm currently reading Team of Teams: New Rules of Engagement for a Complex World, by Gen. Stanley McChrystal, Chris Fussell, David Silverman, and Tantum Collins, and I have this crazy idea of completing one of the Tour de France stages."
What is the one thing that others may not know about him? "Many of us have parents who desired their children to play an instrument," he says. "For some unknown reason, and without my input, my parents signed me up for accordion lessons. I took accordion lessons from the age of seven to nine.
"No," he adds, "I don't play."