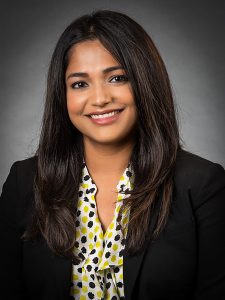 "It's complicated." That buzz phrase often carries a negative connotation. But for Riny Mathai, not so much. Mathai first became interested in tax during a tax research class at the McCombs School of Business at the University of Texas at Austin. "I liked the complexity of some of the issues presented and how we had to think through them before arriving at a justifiable conclusion," she explains.
Mathai, now senior manager of income tax at Love's Travel Stops & Country Stores Inc., credits her previous employment for the skills she developed: "The importance of being a good communicator and getting buy-in from the right stakeholders cannot be underestimated. It is so important to think through issues thoroughly and then present your thoughts in a concise, organized manner so people can rely on your judgment. Often, you are operating in a fast-paced environment, and you don't get the time to formulate. That can be a challenge. Figuring out how to translate those complex, often boring tax issues into a couple of simple sentences that are interesting enough to your key stakeholders to conceptualize and provide feedback on is one of the most sought-after skills for a tax professional these days."
It was the culture at Love's that drew Mathai to her current professional home. "Love's is known to have a great culture and is just a wonderful place to work. A lot of the employees have been here for a long time, and so we have had a chance to form close relationships with each other," she explains.
What's the most interesting tax issue Mathai has worked on at Love's? "Being one of the largest pass-through structures in the nation, one of the most interesting issues was working through [Tax Cuts and Jobs Act] proposals and communicating how Section 199A impacted us. We are a poster child for tax reform, with travel stops in forty-one states and 33,000 employees. We are currently going through a similar exercise with all the ongoing activity in Washington," she says.
The TEI Experience
TEI holds a solid place in Mathai's professional life. "TEI has helped me form a network with other tax colleagues in my city and all over the country," she says. "It gives you as much as you put in. The more you engage, the more you get out of it. I have had many instances where I ran into an issue and just picked up the phone and called someone from TEI who knew the answer. It is so much easier to lean on your colleagues than [to] try to figure something out from scratch on your own! I have evolved both professionally and personally from TEI."
Interesting Journey
As far as her greatest accomplishment to date goes, Mathai notes that the past decade has been a journey filled with successes and challenges. "I left home and family in Dubai and flew across the world to the United States in 2008 to pursue my education at the age of twenty-three. I was terrified and didn't know what to expect. Over the past ten years, I fell in love, got married, had three children, and found a career that I enjoy. I now call Oklahoma my home and feel pretty settled! I think my greatest accomplishment is finding joy in my career, family, and community," she explains.
When not absorbed in tax issues, Mathai enjoys traveling, reading, art, and movies.