While studying for his B.B.A. in accounting, Kevin Reddick realized that he found tax inherently fascinating because it was similar to three-dimensional chess, which he describes as "a giant, messy, complex game that involves economics, finance, policy, and law, and its field of battle is often the court of public opinion." He adds, "With that level of challenge, I knew it was the right field for me." And the rest, as they say, is history.
Reddick, now director of state and local tax at The Home Depot, finds the federal and international juxtapositions with state law, especially in the post-tax-reform world, particularly captivating. "It is often the conflict of laws between the states that makes for judicial and legislative developments that are equal parts entertaining and frustrating," he notes.
Regarding tax operations in a publicly traded company, he says, "I love that tax professionals, in order to be effective, have to have broad connections with numerous business partners that represent constituencies throughout the organization in order to understand operations and be better positioned to provide sound tax advice.
"It makes for a superb training ground for developing into a great business person," Reddick explains.
Tax Reform Legislation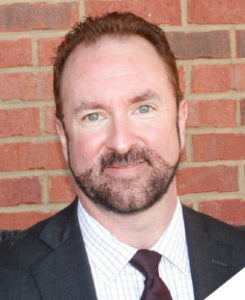 What is the most problematic tax law he's encountered since joining The Home Depot? Just a few weeks after he started his current role with the company, the massive federal tax reform bill was enacted into law. "I had barely gotten my feet wet within the organization when suddenly everything I thought I knew about tax law shifted," he says.
"Suddenly," he continues, "I found myself in a world where a SALT professional needs to have significant depth in international tax matters, at least insofar as those matters have state implications. Further, we have had to sit and watch the state legislatures struggle with adapting to the new post-reform regime, registering the hits and misses with both amusement and frustration."
Although Reddick would not go so far as to declare this issue solved on his watch, "my team and I dove headfirst into this new and complex miasma and have been steadily learning. We have road yet to travel in this space, but being inherently intellectually curious people, I am confident that my team and I will become conversant in this space over time."
The Home Depot Experience
What are the best parts of working at The Home Depot? "Two things immediately come to mind. One is that The Home Depot is populated with smart, hardworking people who are addicted to winning. Because of the massive scale of the business, opportunities in this organization are limitless if you come to the table with drive and intellectual curiosity. That makes for an environment that is extremely exciting.
"The second thing," he says, "is that the business takes its core values extremely seriously and puts them into action in exciting ways. One of the most rewarding pieces of our core value wheel relate[s] to giving back, and we put that into action by providing numerous opportunities to become involved in service projects. Working in the Atlanta Store Support Center [the company's corporate headquarters], we have one significant annual opportunity for leaders to connect with community service organizations, and a team goes out to the homes of local veterans and their families and spends the day working on their homes, doing repairs and maintenance, painting, and landscaping. I have had two such opportunities in my tenure at The Home Depot, and they have been among the most rewarding days I have experienced in the role."
The Abercrombie & Fitch Experience
Prior to joining The Home Depot, Reddick had a lengthy stint at Abercrombie & Fitch in Columbus, Ohio, during which he learned to "always lean into a challenge." He explains: "Embrace it, give yourself permission to make mistakes, and learn everything you can along the journey. Learn from strong leaders, and work hard to keep everything in the proper perspective. Everyone can teach you something, even if it is how not to be. In tax, we aren't saving lives, so be sure to remember what is truly important. Friends, family, those you love, and the memories you make with them.
"Having spent over eighteen years with Abercrombie," he adds, "I learned so much about a retail business during different iterations of its life cycle. I knew how to navigate the organization and had mastered my space. But with that said, I also learned to recognize when it is time to put myself in a position to again be challenged to avoid growing complacent. Leaving Abercrombie was an extremely difficult and life-changing choice, but to continue growing, it was something I needed to do."
His greatest professional accomplishment? "Generally, my biggest accomplishments both revolve around creating effective operations in the absence of a preexisting function. During my time at Abercrombie & Fitch I raised my hand and asked to be given the function of managing the intellectual property for the enterprise as, prior to that, all the effort in this space was outsourced. The function was brought in-house and handed off to me, and I set up an effective process to ensure legal review of all designs before they went into production, limiting legal liability for the company and reducing outside professional fees for providing related services. At the time of my departure from A&F, the function had grown to approximately ten people, adding significant value to the IP portfolio and meaningful legal protections to the organization."
Reddick adds, "At The Home Depot, I have been given a similar opportunity with respect to pursuing an organized strategy around credits and incentives. I was told before stepping into that responsibility that no less than five people over ten years had made the attempt and failed to get a process designed and deployed, so the task was daunting. Fast-forward eighteen months, and after careful design and cross-functional business partnering, we have a robust and highly visible team that evaluates opportunities related to every project under consideration. The sea change that has transpired in this area is deeply gratifying."
Music and Singing
When not immersed in tax issues, Reddick enjoys music and singing. "My outlet for this interest is primarily within my church, as I am worship leader and singer on our praise and worship team." He regrets that he has little time to engage in his favorite pastime, reading, which includes novels, history, and biographies—almost anything he can get his hands on. "I am a voracious reader and an adherent to the tactile nature of holding an actual book in my hands, as opposed to an electronic device," he explains.
"I own and ride a Peloton daily, and it helps keep me not only healthy but sane, providing an outlet to manage stress, and I have a good group of friends in my riding community that help keep me motivated," he says.
The TEI Experience
TEI has been a significant presence in his life, Reddick says. "TEI is not only a great resource for technical training and staying abreast of changes in a swiftly evolving tax environment, it is a fantastic resource for networking. Participation in the SALT subcommittee has introduced me to some very experienced tax professionals with whom I can collaborate on issues and share war stories, not to mention being a fun group with which to connect at midyear and annual meetings," he says.
On another note, Reddick mentions that he is the only child of a father who, before he passed away in 2018, was a minister for most of his life, adding that what they say about preachers' kids isn't true. "At least, not in my case," he explains. "I am given to understand that there was quite the reputation that I failed to achieve!"
Joking aside, Reddick has managed to make up for lost time. "Growing up in that environment and in my college and law school days, I have managed to live all over the country, both coasts, and both sides of the Mason-Dixon Line. After my dad passed, I moved my mom into my house in Georgia, and we have settled into a new normal," he says.