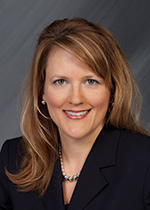 "Taxes are inevitable. People complain about them, but many do not understand tax and the ways to manage or minimize tax liability."
With that explanation, it's easy to understand why Jacqueline Hart chose to go directly into the tax department at Ernst & Young (EY) right after graduating from college. "The exposure to C Corp., pass-through (S Corp. & LLC), individual, and trust taxation was invaluable," she explains.
But Hart, currently corporate tax director at Aetna Inc., didn't go directly from EY to the insurance giant. There were a few twist and turns.
First, as luck would have it, one of her clients at EY was a family who owns of one of the largest privately held companies in Buffalo, New York, Rich Products Corp (Rich's). So when an opportunity arose to work in the corporate tax department at Rich's, Hart seized the moment.
Rich's was Hart's first experience in a corporate tax environment, and it proved to be "a refreshing change from public accounting."
"Instead of worrying about public accounting time sheets and jumping from one client to another, I enjoyed being able to focus on a dedicated group of entities while collaborating with other areas in the organization, including the executive team, finance, business development, IT, HR, legal, payroll, operations, and facilities," she says.
Then, in an effort to expand her career, Hart took a risk, leaving Rich's to start the corporate tax function at Prodigy Health Group. Previously, all tax work was outsourced to CPA firms, but due to exponential growth via acquisitions, the function was being developed in-house. "At the time, I was the only dedicated tax person, which was a challenge, but I found this role to be extremely rewarding. I was responsible for all aspects of corporate tax, such as audits and risk management, compliance, planning, provision, credits and incentives, and mergers and acquisitions. I became a value-added business partner within the company and created policies and processes that previously never existed," she explains.
A Key Acquisition
After a few years, Prodigy Health Group was acquired by Aetna Inc. In addition to being a member of the transaction team with responsibility for all tax aspects of the sale, Hart also led the tax function integration of the Prodigy group of entities into Aetna. Eventually, she took on a role within the multistate area of Aetna's large and dynamic tax department, and now she focuses on consolidated federal income taxation for all Aetna entities.
No two days at Aetna are ever the same. "We are in the midst of great and exciting changes in our industry," Hart notes. In July 2015, Aetna announced a plan to acquire Humana in the second half of 2016, pending regulatory approval. "This will be a once-in-a-lifetime opportunity to be involved in the integration of a Fortune 100 company into a Fortune 50 company," she says.
Her biggest challenge is working remotely from her team. She lives near Buffalo, New York; Aetna is based in Hartford, Connecticut. "We have been effective in developing and maintaining a successful multisite department (not only for myself, but also for others who are not based in Hartford) by utilizing all available technology (email, instant messaging, being a completely paperless department, etc.)," she explains.
The Energizer Bunny
As you might imagine, Hart's motor never stops. She aims to maintain a healthy lifestyle, which includes regularly participating in a 6 a.m. exercise boot camp class. "It isn't always easy to wake up at 5:30 a.m. to attend a boot camp, Tabata, or HIIT (high-intensity interval training) class; however, I leave each class feeling energized and empowered to conquer anything the day throws at me. Each workout is completely different and challenging, which keeps it interesting. My trainer and fellow classmates are supportive and always inspiring me to push myself a little harder."
---
Name: Jacqueline Hart, CPA
Title: Corporate Tax Director
Company: Aetna Inc.
At Current Job Since: 2006 (five years at Prodigy Health Group, which was sold to Aetna in 2011, plus four years at Aetna)
Prior Companies: Prodigy Health Group Inc. (2006–11), Rich Products Corp. (2001–06), Ernst & Young (1997–2000)
Education: Canisius College in Buffalo, New York (B.S. in accounting), State University of New York at Buffalo (MBA)
Birthplace: Buffalo, New York
Age: 40
Key Achievements: My family. I am extremely proud to be called "Mom" and to be able to successfully manage my family's busy schedule as well as a fulfilling career.
Top Goals: Professional: As the Buffalo–Niagara Chapter president of TEI for 2015–16, I hope to increase membership in our chapter by reaching out to in-house corporate tax professionals who are not currently involved in TEI and making them aware of the benefits our organization offers. Personal: To run a half marathon; to see "The Tonight Show with Jimmy Fallon" live in New York City. (Does anyone have connections?!)
Hobbies: Spending time with my husband and two young children, exercising, running, ice skating, and traveling
One Interesting Tidbit: Our daughter was the first baby born in the Buffalo area on Mother's Day the year she was born. (It happened to be my birthday weekend as well.) Two local television news channels interviewed us that morning, and before we were even able to contact many family and friends, they learned that we had the baby while watching the news!