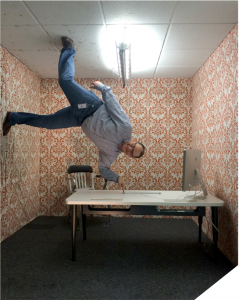 As a senior in college, Chris Anderson had an epiphany while attending an information session for internship interviews. It was the early nineties. There was a recession; the financial crisis of the time was the failure of the savings and loan institutions. And the Big 8 had just become the Big 6. "The job market was challenging, and I knew I wasn't at the top of the class," he explains. "Most classmates wanted to go into audit and stay in Knoxville, Tennessee. I simply played the odds and chose tax and told the recruiters that I would go anywhere jobs were available."
That put Anderson, now director of tax operations at Facebook Inc., on an exciting path in the tax profession, which included several stints at Ernst & Young (EY). "I have been fortunate to have worked with strong organizations (EY, PwC, Facebook, and GE). In private industry, personal responsibility is more absolute; you are 'management,' ultimately responsible for making decisions, identifying issues, building/executing processes, and developing strategy. In public accounting, you function in the capacity of an advisor. This role requires having knowledge and/or skills in specific areas that clients rely upon," Anderson says.
Appeal of Facebook
What attracted Anderson to Facebook? When he was at EY in Raleigh, North Carolina, he had the opportunity to work with a number of entrepreneurs and entrepreneurial companies. He found working with the people and the organizations that they built to be particularly interesting. "When I went to GE Capital, the experience [of] working in the GE tax department was incredible and one of the best career decisions I had ever made," Anderson says. "However, I did miss working in a more entrepreneurial environment. I was lucky, in that one of my mentors at GE, Gerald Soto, joined Facebook and knew of my background and interest and offered me the opportunity at Facebook. The nice thing about Facebook is that it's a new, scaling business. I was able to apply what I learned from past experiences and build a team and process with a lot of autonomy."
The most interesting tax issue he has worked on at Facebook? Working through the Tax Cuts and Jobs Act (TCJA). "This was a complex bill," he says, "signed days before year-end, requir[ing] a tremendous amount of technical analysis, combining concepts of international, U.S., and state tax and teaming to decipher the law and quickly execute."
Greatest Accomplishment
As his greatest accomplishment, Anderson cites both work and family: "I hope that in some way that I've helped guide my two stepchildren on a good life and career and those that I've mentored in their career. I would hope that I've passed on the fact that it's possible to be serious about what you do while taking things in perspective and not taking oneself too seriously."
Importance of TEI
TEI has played an important role in his career, Anderson says: "Upon moving to the Silicon Valley area about six years ago, I started participating in local roundtables, seminars, and committees. This helped me quickly get acquainted with what has turned out to be a vibrant local tax community. The technical seminars are excellent. The greater value is gaining insights from peers on things that in-house professionals deal with, such as recruiting, dealing with finance teams, and team building. This involvement has made me more effective as a tax professional. Now when I make decisions, those decisions are made with a broader context of knowledge and the shared experiences of others."
To be successful in this business, Anderson says, you need a multitude of skills and a personal network of colleagues and advisors. Rarely will anyone be able to obtain all of these at a single employer, he explains. "The more we can make young professionals aware of this fact, the more appealing TEI will be to younger professionals," he says.
When not immersed in tax issues, Anderson enjoys mountain biking and hiking as well as having been a former percussionist (he loves all things drumming).
Anderson very clearly appreciates those who invested the time and had the patience to mentor him over the years: David Jessen and Dan Slagle at EY; Gerald Soto at both GE and Facebook; Donald Dwight and John Turner at PwC; and Dennis Duquette at Red Hat.
We're sure he would introduce them with a little drumbeat.