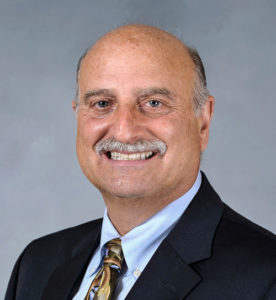 Wow! We've just returned from our 76th Annual Conference at the Omni Orlando Resort at ChampionsGate in Florida. What a special meeting! Actually, our Annual Conferences are all special, but perhaps none more so than this one—our first fully hybrid Annual Conference with hundreds of members participating virtually or in person. And I have to say, it was truly fantastic seeing and talking to so many of you face-to-face in meeting rooms and hallways.
It sure felt great to return to a semblance of normalcy, don't you agree? As we embraced the certainty of change in this hybrid meeting, we clearly were looking to the future. Still, it was so exciting to see so many familiar members, sponsors, and friends. There were so many awesome speakers that I can't stop talking about them. Kudos to our fabulous TEI staff who put together a stellar program. And thanks to Jim Kennedy, his Executive Committee, and my current Executive Committee for having the wisdom and vision to make this entire event happen so magnificently.
Next year is shaping up to be an amazing one for TEI. We have so many things planned at the Institute, regional, and chapter levels. By the way, the events that I highlight here come on the heels of a very successful virtual seminar that many of you attended, our US International Tax Fundamentals series. Keep an eye out for information and save-the-dates for TEI's 72nd Midyear Conference in Washington, D.C., March 20–23; Federal Tax Course – Level 1 in April; and the Tax Technology Seminar in San Francisco, May 2–3. Also in the works are a US International Tax and Mergers and Acquisitions Seminars, and the return of our Audits and Appeals Seminar.
All this will take place as tax reform continues to evolve—and will take up a significant portion of our time in the coming months.
In the meantime, I want you to know that we have heard you loud and clear. As you know, we are a member-driven organization. Rest assured we are constantly working with TEI Executive Director Pilar Mata and now a recent hire, Manager of Membership and Chapter Relations Sona Camara, to make sure that you, our members, are our top priority—and that we are always working to meet your needs. And as we continue to embrace the certainty of change, we are happy to announce that Lauren Anderson has joined the staff as TEI's new online education manager. The creation of this position will enable TEI to offer different online offerings, on-demand learning, and a catalog of training courses for you and your staff. Pretty exciting, right?
Finally, as we head into Thanksgiving and the holiday season, two things:
Be blessed and relax, and thank you for your time and efforts this year and next year on behalf of TEI. (As my mother says, if you need something to do, just ask—there is lots to go around.)
There are so many scams, emails, and texts out there that attempt to get money from the coffers of our chapters. Don't fall prey to those who want to take advantage of you. Remember, I don't need gift cards, funds, or anything else from you (yes, from my three kids, I do), so always stop, think, and ask, "Did Mitch (or someone else in a leadership role) really send me this request?"
See you in 2022!
Best regards,

Mitchell Trager
TEI International President