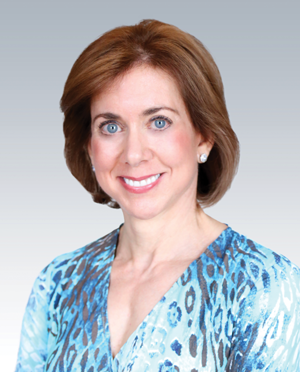 When Ellen Berenholz was in college and working for a CPA firm, she could recite financial statement opinions backward and forward. You think that might have come in handy when she began her post-college career at Arthur Andersen's audit group?
Actually, Berenholz proofread financial statements at the CPA firm, checking for typos, instead of deploying yet-to-be-invented spellcheck. Those were different times, of course, but she parlayed that work along with her major in accounting (she liked math) to land the Arthur Andersen gig—and never looked back in her career in tax.
"I would like to think there was some serious substantive career planning that led me to transferring from [Arthur Andersen's] audit to tax group, but I honestly don't recall other than it was time to try something new. Regardless of the reason (or lack thereof) for the career pivot, that move set me on a path to focus my career in the tax space," Berenholz explains.
Berenholz, now executive director of tax policy for Comcast Corporation, has always been fascinated by the interplay of tax law in the larger economy and its influence on taxpayer behavior. "I also enjoy politics and how policy ideas are debated before they become law. I work in an industry where the tax law has not kept up with the pace of technological changes in service offerings, which makes for some interesting and lively debates," she adds.
Tax Reform Legislation
Speaking of policy and politics, Bernholz has a clear-cut take on the recent tax reform legislation. "Corporate tax reform in the United States was long overdue, as our law, in particular on the international side, and our relatively high tax rate had become out of step with the rest of the world," she says. "Comprehensive tax reform of course comes around quite infrequently, so being a part of the dialogue is without a doubt a major and memorable highlight of my career. Tax reform seemed to come together quickly at the end of 2017, but the actual debate of ideas happened over so many years that it often felt a bit like Groundhog Day for me, and a year later it's sometimes hard to comprehend that it actually happened. The process is not over yet, with technical corrections and regulation still to be worked out."
Berenholz is bullish on her tenure at Comcast. "From the perspective of someone working in the tax group for decades, Comcast has been an amazing company to have a career [at], as it is a dynamic organization that is constantly evolving and reinventing itself," she says. "One negative that people who leave public accounting for a corporate job hear is that you will be doing the same type of work year after year. That has certainly not been my experience at Comcast. There are myriad issues to navigate when a company enters new service markets or additional places of doing business as Comcast has done and continues to do."
"I chose to work part-time when I was first hired to allow me the flexibility to juggle raising two girls while still keeping my hands in the profession."
—Ellen Berenholz
Balancing Work and Family
Berenholz found a way to build a career at Comcast while raising her children. "I chose to work part-time when I was first hired to allow me the flexibility to juggle raising two girls while still keeping my hands in the profession. Luckily for me, as Comcast grew and diversified in more transformative ways, so did my ability to add more work hours."
"I chose to work part-time when I was first hired to allow me the flexibility to juggle raising two girls while still keeping my hands in the profession."
—Ellen Berenholz
Legislative Goals
How does Berenholz coordinate with others at Comcast on the firm's legislative goals? "Comcast legislative priorities and positions are constantly evolving as the business grows in new directions and the marketplace in which the company operates evolves. The focus of this question is spot-on, as the tax policy function demands constant coordination with other stakeholders within the company," she explains. "Communication within the tax group with the folks who handle compliance, controversy, and planning is the main source of direction for legislative policy. Layered on top of this is coordination with teams in our government affairs, regulatory, and business units that have firsthand knowledge of operations and services."
Business Transformations
Comcast has had major business transformations multiple times since Berenholz first joined the company in 1992. "Twenty-seven years ago, Comcast was a company focused primarily on building networks to deliver cable television service to customers—there was no internet or phone products, no television networks, no theme parks, and no major international presence," she says. "Let's just say the business is a lot more glamorous than it was twenty-seven years ago, which is quite exciting for a tax professional where the words 'tax' and 'glamour' are not used together too often."
Despite an illustrious career in tax, Berenholz says her greatest accomplishment lies in the family zone. "It sounds cliché," she says, "but raising two independent daughters is by far my greatest accomplishment. Lots of kids want nothing to do with their parents' profession, but I have one who actually followed in my footsteps and is a CPA doing tax controversy work. Sadly for our family, we lost my husband, who also was a CPA, when he was fifty years old to lymphoma. My girls and I focused our grief to raising money for cancer research working through [the Leukemia and Lymphoma Society's] Team In Training."
On the Links
Berenholz enjoys being on the golf course whenever the opportunity arises. "I spend my nice-weather weekends playing golf. Golf is a great mental escape from work even if it is at times frustrating. Without a doubt one of the favorite workdays for some of my colleagues and me is the annual TEI Philadelphia Chapter golf outing," she says. And, yes, she has a hole-in-one in her golf portfolio.
TEI has been a great resource for Berenholz during her career. "I have regularly attended the local chapter events and larger events such as the TEI midyear and annual meetings. The quality of the programs is consistently top-notch. When I was a member of the board of the Philly Chapter, I was proud to be part of the process that awarded scholarships to local university students."