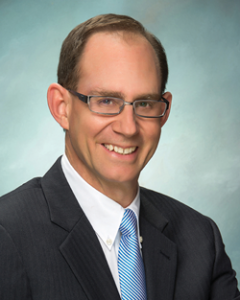 Remember the last time you caught up with an old friend, and the conversation was so easy and comfortable, you totally lost track of time? You became so engrossed that a ten-minute chat turned into an hour. That's how my TEI presidential term has been: a totally rewarding experience where, in the blink of an eye, the year has come to an end.
Leading TEI has always been a professional goal for me. Almost from the start of my tax career, I dreamed of having the opportunity to serve my peers and profession atop the preeminent association of in-house tax professionals worldwide. I am honored to have served in the twenty-fifth year of my TEI membership, representing the Cleveland Chapter as its first TEI international president. (While I wish I could say that I planned my term to coincide with the return of that other "favorite son of Cleveland," that would be a stretch; his return was totally serendipitous. Go LeBron! Go Cavs!)
Setting TEI's strategic course is one of the president's most important responsibilities. Developing Institute goals requires a balance between the priorities of the incumbent and the needs of the organization. And, in virtually every instance, the president is not writing on an entirely clean slate, as projects and initiatives commenced in an earlier year remain to be completed in the next. So, as I worked through my goals, and with history in mind, several themes began to emerge. First, I wanted to complete the work of my friends and predecessors Carita Twinem and Teri Wielenga to start a TEI chapter in Latin America. Next, I wanted to focus on getting members further connected with other members—a core mission of TEI. And third, I wanted to focus efforts and resources to expand the TEI membership base by creating greater value and thus make TEI that much more attractive of a membership organization.
So, how did we do?
Emerging Tax Professionals
We have focused our efforts to attract and retain the emerging tax professional. By creating a subcommittee of the Corporate Tax Management Committee and introducing emerging tax professional programming at both Institute and regional conferences, we have begun to lay the foundation for broadening our membership base. But much more needs to be done. We cannot expect TEI as an organization to be appealing to emerging tax professionals solely based on its past accomplishments or current value proposition. We must refine and in some cases reinvent who we are to create value specifically designed for this newer generation of in-house tax professional. And that value has to be created from their perspective, e.g., how they acquire knowledge, network, and develop professionally. We are off to a good start here.
Chapter + 1 Programs
Our efforts to link Institute-level and chapter activities have seen significant progress. By ratcheting up our Chapter + 1 programs as well as holding several conference calls to link Institute and chapter leaders, we are strengthening these connections and enhancing lines of communication. We initiated Institute-sponsored training for chapter treasurers and fully expect this program to become a regular event on the Institute calendar. Changing economic times and tighter budgets for both training and travel will require greater coordination between the Institute and its chapters to maximize member value and minimize channel conflict. Enhanced communication will go a long way toward achieving this result. In addition, our outstanding Institute staff can and will continue to serve as a ready source of information and support, utilizing their years of collective experience to assist chapter leaders blaze new ground while avoiding old pitfalls.
Global Reach
For me, getting connected has meant visiting with as many chapters and members that my Lubrizol schedule would allow. I have gladly traveled many thousands of "TEI miles" to meet in-house professionals in Beijing, Shanghai, Geneva, São Paulo, Rio de Janeiro, Ottawa, and numerous other locations throughout the United States. It was a personal goal to visit TEI's chapters located outside of the United States to ensure our members there feel fully connected. The volume of my TEI itineraries reflected a personal choice, and I was glad to have had the ability to achieve this objective.
I saw firsthand the energy, vitality, and impact TEI and its members have around the world. Meetings with Canadian, U.S., and Chinese tax officials demonstrated with great clarity that TEI's advocacy is uniformly viewed as fundamentally fair, thorough, and comprehensive, expressing positions that not only identify technical tax, policy, and administrative problems, but, with equal clarity, workable and practical alternatives and solutions. Our meeting in Beijing represented a TEI first—a formal liaison meeting with China's State Administration of Taxation.
I am hopeful that type of meeting will continue. Watching the lively discussions in Ottawa, Canada, with the Canada Revenue Agency and Finance confirmed that it is the breadth of our membership that provides taxing authorities with unmatched insight about how proposed statutes and rules may work in practice. Similarly, the detailed discussions with senior policy, legal, and enforcement officials from the Internal Revenue Service and Treasury brought home that we as a stakeholder organization have a critical role to play in shaping the tax policy and regulatory environment in which we operate, as well as a continuing obligation to all of our members to preserve TEI's place at the table.
The growing demand among our non-U.S. chapters for U.S.-based tax education has enabled TEI to showcase its long-standing facility to present top-tier education and faculty around the world. Significant events in China and Europe featured U.S. international tax and sales tax presentations, with other potential programs in Canada and Australia on the drawing board.
Revamped Magazine
Our bimonthly magazine, Tax Executive, underwent a significant transformation, preserving its traditional role as the official journal for in-house professionals, while refreshing its writing to create new features to highlight TEI's professionals, its chapters, leaders, and sponsors. In addition, a companion Tax Executive microsite has launched, which will be the home for late-breaking TEI news and developments. Revisit and bookmark your favorite Tax Executive stories at www.taxexecutive.org.
Finally, the creation of a redefined TEI corporate counsel has served to centralize various regulatory, governance, and management duties and streamline key components of TEI's business operations. Lee Gillespie-White, an experienced nonprofit lawyer, has been instrumental in accelerating the stand-up of our Latin America Chapter as well as the administrative details associated with our Asia chapter activities.
No one becomes TEI president solely on the strength of his or her own abilities. It always takes a village, along with plenty of good fortune and a lot of hard work. In my case, all good things in my life start with my wonderful wife, Judene. She has done everything for me over the years to allow me to dedicate so much time and effort to both Lubrizol and TEI. I am eternally grateful to her. In addition, I would like to thank my children, Dan and Monica, along with my dad, Larry, for all of their encouragement.
I also want to acknowledge and thank my boss, Jeff Vavruska, and my employer, The Lubrizol Corporation, for their invaluable support for my involvement with TEI. As important, I would like to express my gratitude to Sharon Heck, vice president of tax at Berkshire Hathaway, Lubrizol's parent company, for her support as well. A very special shout-out to the entire Lubrizol tax team for their hard work and effort over the years and especially during my presidency.
Special thanks to my leadership team for their energy and commitment­­—in particular, my three senior officers, Sandy Macfarlane, Janice Lucchesi and Robert Howren. Finally, I extend my thanks to Eli Dicker and his entire team for their extraordinary efforts on behalf of TEI.
TEI has meant so much to me and my career—the lifelong friends I have made and the relationships that I have developed as a result of my association with TEI. I am eternally grateful. It should come as no surprise that I am willing to serve TEI in the future when called upon.
With much respect, admiration, and gratitude,
Mark Silbiger

2015 TEI International President