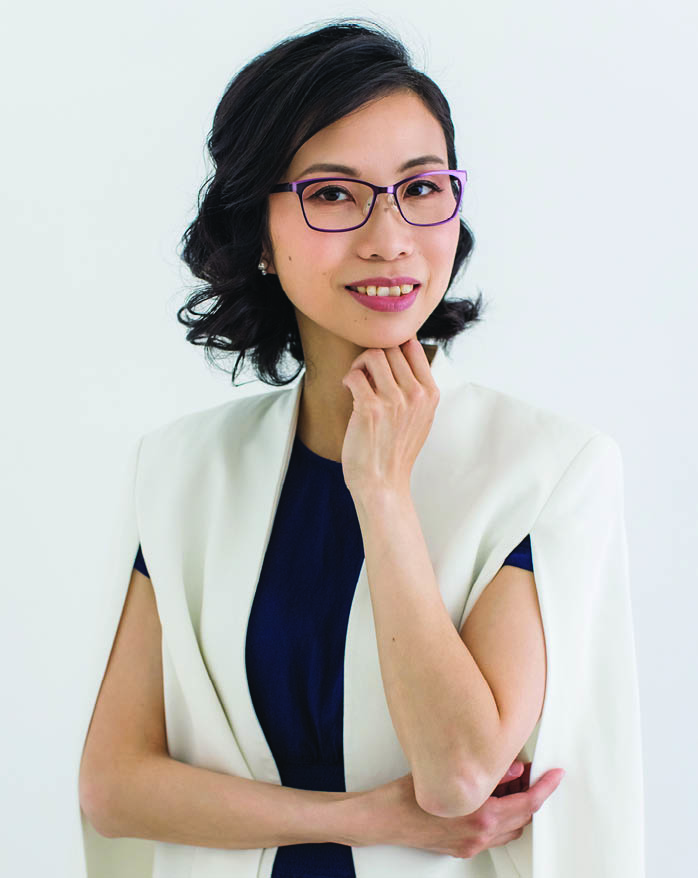 Betty Mak, president of TEI's Vancouver Chapter and director of tax at Maxar Technologies, says that, coming out of the pandemic, it has been important for her to help members reconnect. What's more, Mak says, she's glad she has reconnected with students from the University of British Columbia (UBC), where she earned her undergraduate degree. "They have associations for students interested in accounting and tax, and I've had the honor to speak at their events in the last two years. Many students who attend these events are early in their commerce program and just don't know what they want to specialize in quite yet, so I get to share with them what it's like to be an in-house tax person," Mak explains.
Mak has brought TEI board members and others along to share their experiences with the students. "When I was a student," she explains, "I didn't know about opportunities available in corporate tax until a year or two of working at [a Big Four] accounting firm. And that's one of the benefits of starting in public practice—these firms have specialty groups so you get to work with people from different areas of accounting and tax, to explore what is available as career options and perhaps even do a short rotation in one of the specialty groups before you request a transfer." She believes that it's important for tax professionals to recruit the next generation by reaching out to universities and sharing their experiences with students.
Looking ahead, Mak says, the Vancouver Chapter hopes to bring back members who may have dropped out during the pandemic as well as bring in new members. As far as advice for other chapter leaders is concerned, Mak suggests keeping an open mind, listening to member feedback, and providing opportunities for virtual as well as in-person learning. "We converted one of our in-person meetings in December into a virtual event after polling our chapter members. We had a fairly good turnout, even though we hold most of our monthly meetings in-person," she notes.
Career Path
Before finding her current employment at Maxar Technologies, a space technology firm based in Colorado, Mak worked at a Big Four accounting firm. "After more than ten years at the firm," she says, "I knew I wanted a change. It was around that time I reconnected with a former colleague of mine, David James. James was the director of tax at Maxar Technologies. He said, 'I have an opening for someone specializing in US tax,' because they were about to make a large US acquisition and [would] need to integrate it from a tax perspective with their existing US operations. That's exactly what I ended up doing when I joined Maxar Technologies, and then I've since taken on additional responsibilities including bringing its income tax compliance in-house, integrating the different US businesses, and supporting a variety of special projects including the redomiciliation of the company's parent company into the US. The company does M&A from time to time, and interestingly enough Maxar divested [itself] of its Canadian operations, MacDonald, Dettweiler and Associates or MDA, in early 2020. So, the company today is headquartered and based in Colorado and I'm a fully remote employee. Maxar has given me a lot of opportunities to learn. In fact, Tony Valento, Maxar's VP of tax, often jokes that the motto at our company is 'Never a dull moment.' And I think we live up to our motto every single day."
Personal Reflection
Although she has just turned forty, Mak has had an opportunity to look back at her life so far. "Earlier in my career, I worked hard to obtain my Canadian CA (Chartered Accountant) designation [now the Chartered Professional Accountant or CPA] and my US CPA license and continued to pursue a master of science degree in taxation through Golden Gate University in addition to completing an in-depth Canadian tax course," she says. "By age thirty, I had my first child and I was still looking for a fulfilling career and, at the same time, trying to strike a work-life balance. I've never spoken these words, but I think I was struggling to find true happiness in all areas of my life. What I've learned in my thirties is that achievements and titles don't mean happiness; and I can find a workplace where I can thrive professionally and personally—and be surrounded by people who understand that we need to take care of ourselves and our family on top of doing our jobs well. Staying connected with other professionals through TEI's network and events—whether it [is] through the Institute's conferences or our local chapter events—has been critical to my well-being as a person and as a professional. I thoroughly enjoy the opportunity I've had to be on TEI's Federal Tax Committee, and this year I've had the honor of serving as one of the committee's vice chairs."
The Art of Photography
When not immersed in tax issues, Mak often turns to photography. "I took a basic photography course at a local college before I had kids," she says. "I enjoy looking at your magazine because I was part of the yearbook club in high school and was the yearbook editor for the School of Business at UBC in my graduation year. I absolutely loved the process of producing yearbooks. It used to be called desktop publishing; I thought that was a cool name, right? And I appreciate good photography, because it's what makes publications memorable. The other hobby that I did take up because of COVID was I bought a piano. I took classical piano training in elementary and high school, so I'm picking up on that again. I got my kids also started in piano lessons, just to see if they're interested, too. And then I started to self-learn watercolors, but that's really challenging. I'm not very artistic; I'm a numbers person. But it's good to be doing something different, other than tax, to work with something other than numbers and spreadsheets."