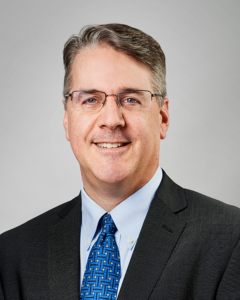 Anthony (Tony) O'Donnell was a history major in college and, during his formal legal training, never set out to pursue tax. "I fell into it late in law school when I took the basic tax course and found that the key concepts of tax made sense to me and the quantitative and finance aspects of tax law were not a turnoff for me as they were for many of my classmates," he explains.
His "comp" to tax law—organic chemistry. Yes, organic chemistry: "Maybe a little strange to say, but organic chemistry, which I took in college and which focused on complex interactions of rules and varying synthesis pathways to achieve a result, was the best preparation that I could have for dealing with tax law. After law school, I got an opportunity to work as an attorney advisor on the U.S. Tax Court, and my career in tax followed from there."
O'Donnell, vice president, tax, in the tax department for the North American businesses of Merck KGaA, based in Darmstadt, Germany, likes the fact that tax law always presents interesting analytical challenges. "There is always something new to learn or a new way to think about some issue. I expect that to be the case until I retire. One of the great benefits of being an in-house tax professional is that a key component of my job is to figure out how to be the interface/interpreter between tax law and all of its legal requirements and complexity and the business operations which, for global businesses, are also increasingly complicated," he explains.
Biggest Challenge: Tax Reform Legislation
O'Donnell's biggest challenge these days: the passage of the most sweeping tax reform legislation in three decades. "Before tax reform," he says, "I think that tax practitioners developed an intuitive sense of how a particular tax issue would play out, even if the precise outcome of that issue still had to be worked out for planning or compliance purposes. It will be some time until that intuitive feel is reestablished under the new tax reform regime. A key consequence is that advising management on issues relating to the new law is more challenging than before.
"From a high-level perspective," he explains, "and speaking as a member of the tax function of an international company, I believe that the new law has done many things to bring the U.S. system more into line with the evolving international norms and is therefore a positive step for multinationals. However, as to the final verdict on the law, the jury is still out on a number of provisions of the law as we await both the finalization of regulations and an understanding as to how the IRS will work these rules on audit, not to mention how other countries may react to some of the new provisions."
O'Donnell derives his work satisfaction through the people he works with and the good fortune he's had in his current job and over his career to work with great people who have a sense of fun and are pleasant to deal with. "As much as tax reform has presented some challenges in adjusting to it, the responsibilities of my current job have allowed me to have a front-row seat to the process of developing and implementing the new law. It has been a rare and very interesting opportunity for me," he says.
"Suffice it to say that I can't recall a period in my career where I wasn't learning something new."
—Anthony O'Donnell
Distinguished Career
O'Donnell has had a varied career, including stints at the U.S. Tax Court, as an associate in a large law firm, and as an in-house tax advisor at four different companies, all of which were valuable to his professional growth: "Suffice it to say that I can't recall a period in my career where I wasn't learning something new."
His greatest accomplishment? His twenty-five-plus-year marriage to his wife Luisa and the life they have with their three wonderful sons and extended family.
When not immersed in tax issues, he's listening to and playing music. "I love music and have been a rock drummer since middle school, and I still play occasionally," he says. O'Donnell is also a history buff who enjoys reading biographies and good historical fiction.
As far as TEI is concerned, O'Donnell appreciates the focus that TEI has on providing education for members to help keep them abreast of the ever-changing landscape that is the tax world these days. "I also think that TEI is a unique advocate to help point out to tax policy makers and tax administrators the challenges that this dynamic landscape presents to tax practitioners and hopefully succeed in making improvements," he says.