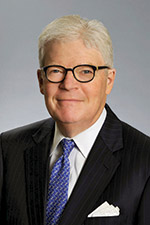 As we head into the holiday season, I wanted to share some impressions from the recently concluded TEI Annual Conference in Dallas, as well as report on the progress being made against several of our 2015–16 Building for the Future goals.
Until now, I had never fully appreciated the degree of effort and energy that goes into planning for and then executing an Annual Conference. Having attended TEI national conferences for many years, often as a session panelist or moderator, I have always seen what occurs on the stage, but without a great deal of insight about what goes on behind it.
Now, having presided over TEI's 70th Annual Conference, I can honestly say that our conference is a complex and multidimensional operation that is effectively thirty or forty mini-conferences or programs all happening either simultaneously or at least consecutively. Let me explain. First, there are the Executive Committee, Board, and committee meetings that are conducted on Sunday, essentially the business side of TEI. Next is the conference's core, substantive plenary, breakout, and keynote sessions, combining technical, policy, and management content, and involving member moderators and tax practitioners, policymakers, and governmental officials from around the world. In addition, there are program elements targeted to specific TEI constituencies, including CAP taxpayers, CTOs, emerging tax professionals, industry and substantive roundtables, conference first-timers, and new members, to name just a few. And finally, the social, feedback, and networking dimensions of our conference include our sponsor exhibit hall, hosted receptions, and advisory boards to round out our conference.
Kudos
The extensive planning and coordination among Institute staff, hotel representatives, members, and tax professionals produces a high-quality and memorable experience for all. To everyone—both in front of and behind the stage—I offer my heartfelt thanks for a job very well done! A special shout out to our Conference Planning and Communications & Marketing teams for all their good efforts. And a special thank you to everyone from the Dallas Chapter who made everyone feel right at home.
The results very much speak for themselves. We were thrilled to welcome Heather Maloy back to the TEI stage to share her impressions about her latest stint in government and her perspective on what lies ahead for tax administration; to hear Deputy Assistant Treasury Secretary Bob Stack offer comments on BEPS and beyond; and finally, to welcome Texas Comptroller Glenn Hegar to share his thoughts on the business tax environment. In addition, leading subject-matter experts from twenty-seven law, accounting, technology, and advisory firms joined us to share their insights and expertise with our 500-plus attendees. And, finally, I hope everyone enjoyed the Tuesday evening reception, full of sumptuous food and drink, all in true Texas style.
If you attended the Annual Conference in Dallas, you understand full well what I have just described. You get your CPE, reconnect with members and friends, interact with advisers and sponsors, all in the spirit of camaraderie and friendship. If you did not, well, our Midyear Conference is just around the corner—and early registration is now open. I hope to see you in D.C. in March.
Building for the Futue
Since TEI's Board of Directors approved our Building for the Future regime of goals for 2015–16, members, vendors, and staff have been making progress on these on many fronts. I appreciate their efforts to make the time and coordinate multiple schedules to collect information, discuss challenges and opportunities, and work toward consensus. The updates and reports presented to the Executive Committee reflect the extent of the efforts undertaken to date. I am grateful for their efforts, some highlights of which are noted below.
Emerging tax professionals. Developing a comprehensive approach to attract emerging in-house tax professionals continues apace. Under the leadership of Emily Whittenburg (Houston) and Kris Rogers (Oklahoma City), a working strategy document was presented to the Executive Committee that outlined a series of approaches to broaden the emerging tax professional concept, leveraging the work done to date, and extending those efforts to the region and chapter levels.
Developing member-centric Web capabilities.
I am pleased to report that TEI has engaged Balance Interactive to assist TEI with its Web redesign efforts. In addition to their creative talents, Balance has a very comprehensive requirements process that will serve TEI extremely well, especially given the varied needs of our chapter, region, and Institute activities. As was reported to the Board of Directors, an aspect vital to the success of this project focuses on significant member involvement and participation. Identifying needs and wants from all corners of the TEI world is essential to a successful requirements process. So when someone from Balance Interactive calls, emails, or otherwise seeks your input, please do your very best to timely respond. Your input is critical to the success of this project.
Operational and structural reviews. We continue to review our technical committee structure: Do we have comprehensive coverage across all technical areas of interest and consequence to our members? What changes should be considered to take into account new areas of interest or focus, including diversity, emerging tax professionals, and Latin America, among others? In addition, we are midway through a review of TEI's investment guidelines and portfolio performance to evaluate whether the Institute's resources are properly aligned for growth, availability, and limitation of risk.
Leadership and professional development. We continue to strengthen the links among chapters, regions, and the Institute through a series of periodic Web/conference-call presentations designed to supplement our Leadership Foundations Seminar and provide continuity for the Institute's chapter leadership. To date, two conference calls have been held focusing on primers for chapter presidents and treasurers. While each has emphasized "black letter" Institute rules and procedures as important, these discussions have provided ideal forums to ask questions, share war stories, and identify best practices.
Finally, I want to extend my warm congratulations to Katrina Welch, of the Dallas Chapter, on her selection to become TEI's 2016–17 TEI treasurer, as well as to our new cadre of regional vice presidents. I applaud everyone who stepped forward, threw their hat into the ring, and asked to be considered. Thank you for your commitment to TEI, its membership, and principles.
Wishing everyone a joyous holiday season!

Sandy Macfarlane
TEI International President