The Baltimore-Washington Chapter recently held its annual Washington Nationals/CPE event at Nationals Park in Washington, D.C. A morning of continuing professional education followed by an afternoon of baseball proved a winning combination. Tom Frazier, chapter president, and his team organized and coordinated the day's activities. Frazier personally greeted each participant arriving…
Read more »
---
Even though they won't officially be sworn in until the Annual Members/Board of Directors meeting in August, we want to introduce you to the new executive committee. Katrina Welch will be the new international president; James Kennedy, senior vice president; Mitch Trager, secretary; and Wayne Monfries, treasurer. The remaining members…
Read more »
---
TEI's technical committees and task forces have already begun their work for the 2019–2020 year, including session planning for the Annual Conference, working on advocacy initiatives, and more. If you are interested in joining a committee or task force, contact the chair listed here.

---
Effective June 25, 2019, Patrick Evans, TEI's chief tax counsel and corporate counsel, will relocate to Manchester, United Kingdom, to establish a TEI branch office there. TEI's U.K. branch will serve as a key springboard for further developing TEI's three pillars—education, networking, and advocacy—in the U.K. and throughout the Europe,…
Read more »
---
TEI's Nebraska Chapter held a full-day CPE/CLE event at the Scott Conference Center in Omaha on April 23. Matt Gareau and Tim Davis from Deloitte's Washington National Tax office presented on "Fundamentals of Consolidated Federal Taxes," designed to provide basic federal taxation knowledge for tax professionals. The event drew over…
Read more »
---
TEI's Pittsburgh Chapter recently hosted its Annual Federal/International All-Day Conference. This event is one of two major all-day programs the chapter holds each year and complements a SALT program that took place in the fall. Attendees were treated to a full sit-down luncheon during which Deloitte, this year's sponsor, presented a technology-focused…
Read more »
---
The TEI Carolinas Chapter held its spring meeting at the University of North Carolina at Charlotte on March 1. In addition to the educational program, Carolinas Chapter president Craig Puno presented the chapter's Meritorious Service Award to Marcus Shore, director of federal tax at Duke Energy.

---
In connection with the TEI Detroit Chapter's February meeting, interim chapter president Kathy Castillo bestowed the past president's plaque and pin on Mary Lewis in recognition of her service to the chapter during the 2017–2018 year.

---
Membership dues invoices were mailed in March to all TEI members. Annual dues remain a tremendous bargain at $275. The most convenient way to renew is online: go to www.tei.org, sign in with your email and password, and click the "Time to Renew" link. If the link does not appear,…
Read more »
---
The number fifty-five had a double meaning in New York City on December 6—it marked not only the fifty-fifth time that TEI's New York Chapter held its annual tax symposium, but also the chapter's celebration of the fifty-five years that Peter Faber of McDermott Will & Emery has served the tax community. A longtime contributor to the chapter's state and local tax (SALT) activities, and…
Read more »
---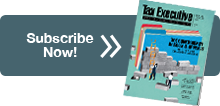 Imports and Exports, Canada: What You Really Need to Know…
When doing business with another country, the sales tax implications…
---
Cost-of-Performance Versus Market-Based Sourcing
Calculating how to source sales to determine a company's state…
---
Part I: The Graphic Guide to Section 163(j)
As children, we learned new and difficult concepts, such as…
---
Practical Implications of New Partnership Audit Rules
Ignore the new partnership audit rules at your own peril.…
---
The New Partnership Audit Rules
The Bipartisan Budget Act of 2015, signed into law November…
---