TEI's Chicago Chapter held its annual meeting June 18 at the Dalcy Event Hall. The event began with opening remarks by outgoing chapter president Cathy Stevens on strong meeting attendance, high membership levels, and terrific sponsor support. Stevens then introduced Kathy Varga, the chapter's incoming president. After Varga addressed attendees…
Read more »
---
Scholarship recipient, Kirstin Robertson, from the University of Oklahoma (left), and Steve Crall, director of corporate taxes at OGE Energy Corp. and Oklahoma City Chapter representative.

---
On September 1, TEI officially opened an office in Shanghai, China, further solidifying its footing as the preeminent global association of in-house tax executives. 2019年9月1日,税务高管协会(TEI)在中国上海正式开设办事处,进一步巩固其全球企业税务高管协会的卓越地位。 TEI first established its presence in Asia in 2005 when it chartered a chapter based in Singapore. Over the ensuing fourteen years, the Institute's profile…
Read more »
---
The TEI Region VIII Annual Conference was held on beautiful and very hot Hilton Head Island, South Carolina, at the oceanfront Westin Hilton Head Island Resort, June 26–30. The conference focused on the key issues facing tax professionals and departments today, including new Tax Act challenges, accounting changes, and technology…
Read more »
---
TEI Regions VI and VII held the annual TEI/IRS Liaison Meeting on May 16, 2019. ExxonMobil graciously hosted the event in Spring, Texas, at its state-of-the-art 385-acre campus. Nineteen IRS personnel and thirty-four TEI members attended the event. IRS panelists included Gloria Sullivan, IRS director, Western Compliance Practice Area; John…
Read more »
---
A highlight of the TEI Philadelphia and Harrisburg Chapters' year is awarding scholarships to outstanding students from local universities. The two chapters pool their resources to maximize scholarship awards. In the just-ended 2018–2019 year, they awarded seven $2,000 scholarships.A scholarship candidate must be a junior or senior accounting or business…
Read more »
---
TEI officially returned to Capitol Hill, May 1–2, 2019, for the Institute's first set of congressional liaison meetings since the late 1990s. Over two days, a delegation of TEI members and Institute staff met with the majority and minority staffs of each chamber's tax writing committee—the House Committee on Ways…
Read more »
---
The Baltimore-Washington Chapter recently held its annual Washington Nationals/CPE event at Nationals Park in Washington, D.C. A morning of continuing professional education followed by an afternoon of baseball proved a winning combination. Tom Frazier, chapter president, and his team organized and coordinated the day's activities. Frazier personally greeted each participant arriving…
Read more »
---
Even though they won't officially be sworn in until the Annual Members/Board of Directors meeting in August, we want to introduce you to the new executive committee. Katrina Welch will be the new international president; James Kennedy, senior vice president; Mitch Trager, secretary; and Wayne Monfries, treasurer. The remaining members…
Read more »
---
TEI's technical committees and task forces have already begun their work for the 2019–2020 year, including session planning for the Annual Conference, working on advocacy initiatives, and more. If you are interested in joining a committee or task force, contact the chair listed here.

---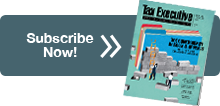 Imports and Exports, Canada: What You Really Need to Know…
When doing business with another country, the sales tax implications…
---
Practical Implications of New Partnership Audit Rules
Ignore the new partnership audit rules at your own peril.…
---
Part I: The Graphic Guide to Section 163(j)
As children, we learned new and difficult concepts, such as…
---
Cost-of-Performance Versus Market-Based Sourcing
Calculating how to source sales to determine a company's state…
---
The New Partnership Audit Rules
The Bipartisan Budget Act of 2015, signed into law November…
---