TEI's Chicago Chapter held its annual meeting June 18 at the Dalcy Event Hall. The event began with opening remarks by outgoing chapter president Cathy Stevens on strong meeting attendance, high membership levels, and terrific sponsor support. Stevens then introduced Kathy Varga, the chapter's incoming president. After Varga addressed attendees…
Read more »
---
Scholarship recipient, Kirstin Robertson, from the University of Oklahoma (left), and Steve Crall, director of corporate taxes at OGE Energy Corp. and Oklahoma City Chapter representative.

---
The TEI Region VIII Annual Conference was held on beautiful and very hot Hilton Head Island, South Carolina, at the oceanfront Westin Hilton Head Island Resort, June 26–30. The conference focused on the key issues facing tax professionals and departments today, including new Tax Act challenges, accounting changes, and technology…
Read more »
---
TEI Regions VI and VII held the annual TEI/IRS Liaison Meeting on May 16, 2019. ExxonMobil graciously hosted the event in Spring, Texas, at its state-of-the-art 385-acre campus. Nineteen IRS personnel and thirty-four TEI members attended the event. IRS panelists included Gloria Sullivan, IRS director, Western Compliance Practice Area; John…
Read more »
---
A highlight of the TEI Philadelphia and Harrisburg Chapters' year is awarding scholarships to outstanding students from local universities. The two chapters pool their resources to maximize scholarship awards. In the just-ended 2018–2019 year, they awarded seven $2,000 scholarships.A scholarship candidate must be a junior or senior accounting or business…
Read more »
---
The Baltimore-Washington Chapter recently held its annual Washington Nationals/CPE event at Nationals Park in Washington, D.C. A morning of continuing professional education followed by an afternoon of baseball proved a winning combination. Tom Frazier, chapter president, and his team organized and coordinated the day's activities. Frazier personally greeted each participant arriving…
Read more »
---
TEI's Nebraska Chapter held a full-day CPE/CLE event at the Scott Conference Center in Omaha on April 23. Matt Gareau and Tim Davis from Deloitte's Washington National Tax office presented on "Fundamentals of Consolidated Federal Taxes," designed to provide basic federal taxation knowledge for tax professionals. The event drew over…
Read more »
---
TEI's Pittsburgh Chapter recently hosted its Annual Federal/International All-Day Conference. This event is one of two major all-day programs the chapter holds each year and complements a SALT program that took place in the fall. Attendees were treated to a full sit-down luncheon during which Deloitte, this year's sponsor, presented a technology-focused…
Read more »
---
The TEI Carolinas Chapter held its spring meeting at the University of North Carolina at Charlotte on March 1. In addition to the educational program, Carolinas Chapter president Craig Puno presented the chapter's Meritorious Service Award to Marcus Shore, director of federal tax at Duke Energy.

---
In connection with the TEI Detroit Chapter's February meeting, interim chapter president Kathy Castillo bestowed the past president's plaque and pin on Mary Lewis in recognition of her service to the chapter during the 2017–2018 year.

---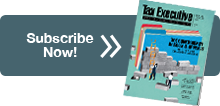 Tax Data Takes Center Stage
As TEI members know all too well, when it comes…
---
Excising Stock Buybacks From the Corporate Playbook
On August 16, 2022, the Inflation Reduction Act of 2022…
---
TEI Roundtable No. 44: Leadership Development and Succession Planning
As we've learned from the fabulous TV series Succession, leadership…
---
Kristina Capretta
Kristina Capretta, senior tax manager at PepsiCo Canada and the…
---
Administrative Challenges Multistate Businesses Face—and Potential Solutions
Since the beginning of time, multistate taxpayers have faced significant…
---
The Shifting State of US Tax Leadership
In the May 29 edition of Tax Analysts' Tax Notes…
---