TEI's San Francisco Chapter awarded its most recent scholarship to Ellen Swain of the University of San Francisco. Josette Castagne-Kwok, the Chapter's scholarship chairperson, presented Ellen with the award during the Chapter's tax seminar held at USF.

---
With the portrait of TEI founder Paul Smith in the background, the Institute's leadership delegation gathered in Washington, D.C., for annual liaison meetings with the Internal Revenue Service and the Treasury Department's Office of Tax Policy. Attendees included Katrina Welch, TEI secretary; Jim Silvestri, senior vice president; John Mann, chair…
Read more »
---
Current Atlanta Chapter president Alice Riviezzo presented last year's president, Jaime Doronio, with the Chapter's presidential plaque for service at its annual social on February 17. Members and their guests spent the evening with good food and even better company as they relaxed and had fun.

---
TEI's Oklahoma City Chapter (TEI-OKC) recently began a scholarship program and awarded its first scholarship to Rachael Murphy of the University of Oklahoma on September 13, 2017. Rachael will graduate in May 2019 with a B.B.A/M.Acc., with an emphasis in taxation. She currently interns with KPMG's tax practice. The Chapter…
Read more »
---
TEI's Philadelphia Chapter recently held its annual wine tasting and KPMG continuing education event at Grace Winery in Glen Mills, Pennsylvania. KPMG opened the event with an excellent, informative CPE program on the federal tax reform initiative underway in Washington, D.C., and financial reporting. After the CPE program, members adjourned…
Read more »
---
The Cincinnati-Columbus Chapter held its 2017 Student Night on Monday, November 13. James D'Ippolito, the Chapter's academic committee chair, awarded scholarships to students from the University of Dayton, Xavier University, Northern Kentucky University, Ohio State University, and Capital University. On Student Night, a longtime tradition of the Cincinnati-Columbus Chapter, scholarships…
Read more »
---
On December 5 and 6, a delegation including members of TEI's Canadian income tax and Canadian commodity tax committees assembled in Ottawa for TEI's annual liaison meetings with representatives of the Canada Revenue Agency and the Department of Finance. This year's meetings featured robust agendas covering a range of tax…
Read more »
---
On December 18, 2017, State Tax Notes honored TEI's role in a joint industry task force working to create a model revenue agent report (RAR) statute, which State Tax Notes featured as its "Project of the Year." The task force, comprising representatives from TEI, the American Bar Association's state and…
Read more »
---
On September 19, 2017, the IRS held its LB&I Northeastern Compliance Practice Area (NECPA) conference in New York City. The conference originated on the heels of 9/11 in October 2001 as the IRS Financial Services conference co-sponsored by LB&I and TEI's New York Chapter.…
Read more »
---
TEI's Harrisburg Chapter hosted its full-day 19th Annual Tax Conference at the Hershey Country Club in Hershey, Pennsylvania, in September. This event, an annual highlight for both the Chapter and the Region, is a much anticipated educational and networking opportunity for Central Pennsylvania…
Read more »
---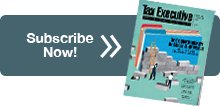 Practical Implications of New Partnership Audit Rules
Ignore the new partnership audit rules at your own peril.…
---
States Fine-Tune Market-Based Sourcing Rules Through…
In 2015, the rubber met the road, and states began…
---
State Aid: What It Is, and How It May Affect Multinationals…
Never before has international taxation been in such a spotlight…
---
Bots, Natural Language Processing, and Machine Learning
Tax professionals in all industries run into a common problem:…
---
Best Practices in Tax Compliance Outsourcing
Tax compliance isn't for the faint of heart these days.…
---