A yearly highlight for the TEI Philadelphia and Harrisburg (Pennsylvania) Chapters is awarding scholarships to outstanding students from local universities. The Chapters pool their resources to maximize scholarship awards. In the last year, they awarded six $2,000 scholarships. A scholarship candidate must be a junior or senior accounting or business…
Read more »
---
The San Francisco Chapter held its annual meeting at the Wayfare Tavern in June. New Chapter officers were recognized, and then current president, Ed Wohlers, gave the charter to the incoming president, Lisa Kim. Member Roni Height was presented with the Meritorious Service Award as well.

---
On June 22, TEI's Board of Directors approved additions to the Institute's Statement of Mission, Principles, and Purpose. The additions reflect TEI's commitment to diversity within TEI and the tax profession by reinforcing TEI's role as the global association of in-house tax professionals and promoting an inclusive culture that attracts,…
Read more »
---
The Los Angeles Chapter held its Tax Administrators Night and annual meeting on June 1. At this meeting the Chapter awarded scholarships to candidates for the master's degree in taxation programs at the University of Southern California, Golden Gate University, and California State University, Northridge. This year was the Chapter's twenty-first…
Read more »
---
A yearly highlight for the TEI Philadelphia and Harrisburg (Pennsylvania) Chapters is awarding scholarships to outstanding students from local universities. The Chapters pool their resources to maximize scholarship awards. In the last year, they awarded six $2,000 scholarships. A scholarship candidate must be a junior or senior accounting or business…
Read more »
---
The TEI Atlanta Chapter's current and former board members celebrated Robert Howren's election as TEI's 2017–2018 international president at a cookout on July 15. He is the first Atlanta Chapter member to serve as international president since 1999.

---
TEI's Annual Meeting on August 8 included the swearing in of the Institute's 2017–2018 officers and the transition to the new Executive Committee. Robert Howren is the new international president; James Silvestri, senior vice president; Katrina Welch, secretary; and James Kennedy, treasurer. The remaining members of the Executive Committee are:…
Read more »
---
TEI's Atlanta Chapter held a full-day CPE event on May 18 at the Renaissance Atlanta Waverly Hotel and Convention Center. The event, which Ernst & Young sponsored, began with a tax accounting update presented by Matt Tisdel and Adam Bean. Steve Skor then presented on the new Section 987 regulations.…
Read more »
---
The Buffalo-Niagara Chapter held a fun networking event after its June CPE meeting. Attendees went on the Buffalo River History Tour to learn more about the old grain mills and how Buffalo became known as the Queen City. (You'll just have to take the tour to find out why.) It…
Read more »
---
The Fifty-First Annual Canadian Tax Conference was held at the Château Laurier in Ottawa from May 8 to 10. The conference planning committee comprised Steve Perron of CGI Group, who is TEI's vice president for Canadian affairs; David Card of Enbridge, chair of the Canadian commodity tax committee; and Paul…
Read more »
---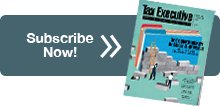 States Fine-Tune Market-Based Sourcing Rules Through…
In 2015, the rubber met the road, and states began…
---
Practical Implications of New Partnership Audit Rules
Ignore the new partnership audit rules at your own peril.…
---
State Aid: What It Is, and How It May Affect Multinationals…
Never before has international taxation been in such a spotlight…
---
Best Practices in Tax Compliance Outsourcing
Tax compliance isn't for the faint of heart these days.…
---
The New LB&I
For a large majority of business taxpayers and their in-house…
---