The 2018 TEI Region VIII Annual Conference was held at the beautiful Westin Hilton Head Island Resort in South Carolina from June 6 to 10 and was attended by over 100 TEI members from sixteen chapters (some coming from as far away as Denver) and individuals from member companies. Two…
Read more »
---
The Baltimore-Washington Chapter recently held its annual Washington Nationals/CPE event in May. A morning of continuing professional education followed by an afternoon of baseball proved a great combination. Kevin Maillet, Baltimore-Washington Chapter president, kicked off the day with a warm welcome to all participants. PricewaterhouseCoopers followed with an excellent and…
Read more »
---
If you haven't visited the TEI website lately, now might be a good time. On July 12, TEI officially launched the new Career Center (careers.tei.org)—the premier resource for connecting highly qualified tax professionals with career opportunities. The Career Center allows TEI members to search for and apply to more member-eligible…
Read more »
---
TEI's Pittsburgh Chapter hosted its annual federal/international all-day conference on April 18. PricewaterhouseCoopers LLP (PwC) sponsored and hosted the event, which is one of the Chapter's two annual major all-day programs and complements a SALT program offered in the fall. Attendees enjoyed a sitdown luncheon, during which the Chapter awarded…
Read more »
---
Getting out ahead of the four nor'easters that hit the East Coast in March, TEI's New Jersey Chapter held its daylong winter seminar on February 23 at Meadow Wood Manor in Randolph, New Jersey. The seminar, sponsored by Ernst & Young LLP (EY), started with a robust plenary session during…
Read more »
---
Though they won't officially be sworn in until the Annual Meeting of Members in August, we want to introduce you to the new Executive Committee. Jim Silvestri will be the new international president; Katrina Welch, senior vice president; James Kennedy, secretary; and Mitch Trager, treasurer. The remaining members of the…
Read more »
---
TEI's technical committees and task forces have already begun their work for the 2018–2019 year, including session planning for the Annual Conference and working on advocacy initiatives. If you are interested in joining a committee or task force, contact the chair listed here.

---
With the portrait of TEI founder Paul Smith in the background, the Institute's leadership delegation gathered in Washington, D.C., for annual liaison meetings with the Internal Revenue Service and the Treasury Department's Office of Tax Policy. Attendees included Katrina Welch, TEI secretary; Jim Silvestri, senior vice president; John Mann, chair…
Read more »
---
Current Atlanta Chapter president Alice Riviezzo presented last year's president, Jaime Doronio, with the Chapter's presidential plaque for service at its annual social on February 17. Members and their guests spent the evening with good food and even better company as they relaxed and had fun.

---
TEI's Oklahoma City Chapter (TEI-OKC) recently began a scholarship program and awarded its first scholarship to Rachael Murphy of the University of Oklahoma on September 13, 2017. Rachael will graduate in May 2019 with a B.B.A/M.Acc., with an emphasis in taxation. She currently interns with KPMG's tax practice. The Chapter…
Read more »
---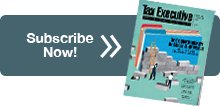 Practical Implications of New Partnership Audit Rules
Ignore the new partnership audit rules at your own peril.…
---
States Fine-Tune Market-Based Sourcing Rules Through…
In 2015, the rubber met the road, and states began…
---
Bots, Natural Language Processing, and Machine Learning
Tax professionals in all industries run into a common problem:…
---
Best Practices in Tax Compliance Outsourcing
Tax compliance isn't for the faint of heart these days.…
---
State Aid: What It Is, and How It May Affect Multinationals…
Never before has international taxation been in such a spotlight…
---