A highlight of the Philadelphia and Harrisburg Chapters' year is awarding scholarships to outstanding students from local universities. The two chapters pool their resources to maximize scholarship awards. In the 2017–2018 year, they awarded six $2,000 scholarships. A scholarship candidate must be a junior or senior accounting or business major…
Read more »
---
The 2018 TEI Region VIII Annual Conference was held at the beautiful Westin Hilton Head Island Resort in South Carolina from June 6 to 10 and was attended by over 100 TEI members from sixteen chapters (some coming from as far away as Denver) and individuals from member companies. Two…
Read more »
---
The Baltimore-Washington Chapter recently held its annual Washington Nationals/CPE event in May. A morning of continuing professional education followed by an afternoon of baseball proved a great combination. Kevin Maillet, Baltimore-Washington Chapter president, kicked off the day with a warm welcome to all participants. PricewaterhouseCoopers followed with an excellent and…
Read more »
---
TEI's Pittsburgh Chapter hosted its annual federal/international all-day conference on April 18. PricewaterhouseCoopers LLP (PwC) sponsored and hosted the event, which is one of the Chapter's two annual major all-day programs and complements a SALT program offered in the fall. Attendees enjoyed a sitdown luncheon, during which the Chapter awarded…
Read more »
---
Getting out ahead of the four nor'easters that hit the East Coast in March, TEI's New Jersey Chapter held its daylong winter seminar on February 23 at Meadow Wood Manor in Randolph, New Jersey. The seminar, sponsored by Ernst & Young LLP (EY), started with a robust plenary session during…
Read more »
---
Current Atlanta Chapter president Alice Riviezzo presented last year's president, Jaime Doronio, with the Chapter's presidential plaque for service at its annual social on February 17. Members and their guests spent the evening with good food and even better company as they relaxed and had fun.

---
TEI's Oklahoma City Chapter (TEI-OKC) recently began a scholarship program and awarded its first scholarship to Rachael Murphy of the University of Oklahoma on September 13, 2017. Rachael will graduate in May 2019 with a B.B.A/M.Acc., with an emphasis in taxation. She currently interns with KPMG's tax practice. The Chapter…
Read more »
---
TEI's San Francisco Chapter awarded its most recent scholarship to Ellen Swain of the University of San Francisco. Josette Castagne-Kwok, the Chapter's scholarship chairperson, presented Ellen with the award during the Chapter's tax seminar held at USF.

---
TEI's Philadelphia Chapter recently held its annual wine tasting and KPMG continuing education event at Grace Winery in Glen Mills, Pennsylvania. KPMG opened the event with an excellent, informative CPE program on the federal tax reform initiative underway in Washington, D.C., and financial reporting. After the CPE program, members adjourned…
Read more »
---
The Cincinnati-Columbus Chapter held its 2017 Student Night on Monday, November 13. James D'Ippolito, the Chapter's academic committee chair, awarded scholarships to students from the University of Dayton, Xavier University, Northern Kentucky University, Ohio State University, and Capital University. On Student Night, a longtime tradition of the Cincinnati-Columbus Chapter, scholarships…
Read more »
---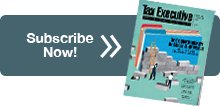 Practical Implications of New Partnership Audit Rules
Ignore the new partnership audit rules at your own peril.…
---
The New Partnership Audit Rules
The Bipartisan Budget Act of 2015, signed into law November…
---
Imports and Exports, Canada: What You Really Need to Know…
When doing business with another country, the sales tax implications…
---
Bots, Natural Language Processing, and Machine Learning
Tax professionals in all industries run into a common problem:…
---
States Fine-Tune Market-Based Sourcing Rules Through…
In 2015, the rubber met the road, and states began…
---