In late February, TEI Los Angeles Chapter members celebrated the chapter's seventieth anniversary in style at the Los Angeles County Museum of Art. Grant Thornton sponsored the event for members and guests, who enjoyed private tours of the museum. "Grant Thornton is honored to sponsor TEI Los Angeles' seventieth…
Read more »
---
A highlight of the Philadelphia and Harrisburg Chapters' year is awarding scholarships to outstanding students from local universities. The two chapters pool their resources to maximize scholarship awards. For the 2015–16 academic year, the chapters awarded seven $2,000 scholarships. A scholarship candidate must be a junior or senior accounting or…
Read more »
---
The TEI San Francisco Chapter hosted its annual meeting at the San Francisco Marriott Union Square in early June. At the meeting, there were two guest speakers, presentation of the Chapter's Meritorious Service Award to past Chapter President Karen Bowen, and speeches by the outgoing and incoming Chapter presidents.

---
Over sixty members and guests attended the Westchester–Fairfield Chapter's Annual Tax Education Day in Darien, Connecticut. The event was co-sponsored by Deloitte and Jones Day. At the event, the Chapter presented a scholarship to Michael Olynick, a graduate student at Fairfield University.

---
On June 1, the TEI Los Angeles Chapter held its annual meeting and tax administrator night. The chapter hosted senior officials from the Internal Revenue Service, the Franchise Tax Board, the State Board of Equalization, and the County Office of the Assessor, as well as TEI Executive Director Eli…
Read more »
---
The Fiftieth Annual Canadian Tax Conference was held at the Château Laurier in Ottawa, May 1–4. The conference planning committee included Lynn Moen, TEI vice president for Canadian affairs (Walton Global Investments); Richard Taylor, chair of the Canadian commodity tax committee (Rogers Communications); Grant Lee, chair of the Canadian income…
Read more »
---
In April, the University of Akron hosted its annual School of Accountancy awards banquet. Master of Taxation (MAT) and juris doctor student Danielle Shaffer was awarded the TEI Cleveland Chapter Graduate Assistant Award, which provides half the tuition cost of the MAT program in exchange for the student's assistance in…
Read more »
---
In 2012, the TEI Detroit Chapter established a college scholarship program and is grateful to have had the opportunity to fund several scholarships each year since. The most recent scholarship was awarded to Jennifer Fowler, a senior majoring in accounting at the University of Michigan–Dearborn. Jennifer plans to sit for…
Read more »
---
In late April, more than 100 participants gathered at the Multnomah Athletic Club in Portland, Oregon, for the TEI Portland Chapter's Annual Tax Conference. The keynote speaker at the conference was Jon Traub, managing principal of Deloitte's tax policy group, who provided attendees with insights into tax policy and politics…
Read more »
---
The New England Chapter's annual All-Day Meeting on May 13 included the presentation of two Chapter scholarship awards. TEI New England has established scholarships with two regional universities and awards the scholarships annually to exceptional students who have committed to further education in tax.

---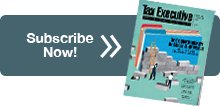 States Fine-Tune Market-Based Sourcing Rules Through…
In 2015, the rubber met the road, and states began…
---
State Aid: What It Is, and How It May Affect Multinationals…
Never before has international taxation been in such a spotlight…
---
The New LB&I
For a large majority of business taxpayers and their in-house…
---
The OECD's BEPS Final Report
Part I: Introduction and Background 15 Actions, Dozens of Questions…
---
Latin America: Many Trading Partners, Diverse Tax…
In 2015, the vast majority of U.S. international companies have many…
---