SALT Committee Breakfast Meeting PricewaterhouseCoopers presented at the SALT Committee breakfast meeting of TEI's Atlanta Chapter, held in February at the Piedmont Driving Club. The topic was "Converging Megatrends That Drive Tax Reform and How This Can Impact State and Local Tax." The PwC speakers included Oscar Teunissen, strategy leader…
Read more »
---
TEI's Atlanta Chapter held its monthly lunch meeting at Maggiano's Little Italy restaurant on November 15, with presentations made by Alvarez & Marsal. The meeting covered the impact of the Multistate Tax Commission's Arm's-Length Adjustment Service ("ALAS") advisory. The speakers were Brian Pedersen, managing director at Alvarez & Marsal, and…
Read more »
---
On December 14, the New York Chapter hosted its Fifty-Third Annual Tax Symposium at the Sheraton New York Times Square Hotel, once again offering members a great opportunity to network and learn. The program was heavily attended by tax executives and by IRS, state, and local representatives. The simultaneously offered…
Read more »
---
At a lunch meeting held by TEI's Atlanta Chapter at Maggiano's—Cumberland Mall this past fall, a presentation by Sutherland, Asbill & Brennan covered "Selected Practical and Ethical Considerations for In-House Tax Professionals" with keynote speaker Tom Cullinan, partner, Sutherland.

---
The Wisconsin Chapter recently presented Janet Kreilein (right) the 2016 Chapter Meritorious Service Award. Dawn Peterson (left), who presented the award, spoke to attendees about the contributions Kreilein has made. "When I left the world of public accounting in the spring of 2004, joining TEI was at the top of…
Read more »
---
TEI San Francisco Past President Michael Edward Martello, fondly known as Mike by most, was born on a U.S. Marine base in Quantico, Virginia. He was the eldest of six children. The family relocated to Clifton, New Jersey, in the early 1950s. He graduated from St. Mary's Catholic High School…
Read more »
---
The TEI Atlanta Chapter hosted a half-day SALT CPE event early this summer. The event, presented by PricewaterhouseCoopers, covered state tax policy trends and featured keynote speaker Lynne Riley, commissioner of the Georgia Department of Revenue. Joe Garrett, deputy commissioner of the Alabama Department of Revenue, and Frank O'Connell, general…
Read more »
---
In late February, TEI Los Angeles Chapter members celebrated the chapter's seventieth anniversary in style at the Los Angeles County Museum of Art. Grant Thornton sponsored the event for members and guests, who enjoyed private tours of the museum. "Grant Thornton is honored to sponsor TEI Los Angeles' seventieth…
Read more »
---
A highlight of the Philadelphia and Harrisburg Chapters' year is awarding scholarships to outstanding students from local universities. The two chapters pool their resources to maximize scholarship awards. For the 2015–16 academic year, the chapters awarded seven $2,000 scholarships. A scholarship candidate must be a junior or senior accounting or…
Read more »
---
The TEI San Francisco Chapter hosted its annual meeting at the San Francisco Marriott Union Square in early June. At the meeting, there were two guest speakers, presentation of the Chapter's Meritorious Service Award to past Chapter President Karen Bowen, and speeches by the outgoing and incoming Chapter presidents.

---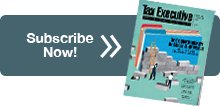 States Fine-Tune Market-Based Sourcing Rules Through…
In 2015, the rubber met the road, and states began…
---
State Aid: What It Is, and How It May Affect Multinationals…
Never before has international taxation been in such a spotlight…
---
Practical Implications of New Partnership Audit Rules
Ignore the new partnership audit rules at your own peril.…
---
The New LB&I
For a large majority of business taxpayers and their in-house…
---
The OECD's BEPS Final Report
Part I: Introduction and Background 15 Actions, Dozens of Questions…
---